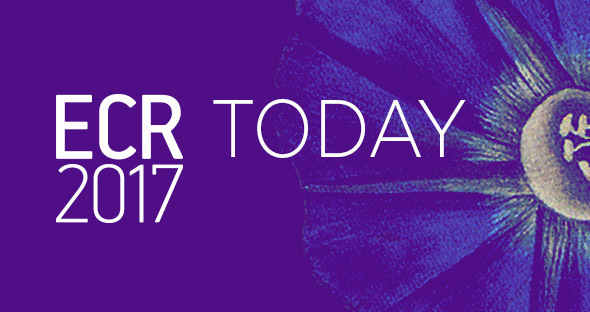 Guest article by ESOR Director, Prof. Nicholas Gourtsoyiannis
The European School of Radiology (ESOR) has completed ten years in action. Ten challenging and rewarding years of unfailing commitment and continuous investment in radiological education in Europe. Ten years of envisioning, engaging, delivering, teaching, tutoring, nurturing, and adding value to radiology.
The three main goals of ESOR are still to assist in harmonising radiological education throughout Europe, by supporting the implementation of the European Training Curricula (ETC); to build a genuine and firm interest in subspecialisation in radiology; and to raise the scientific profile of radiological education in Europe and worldwide.
The past ten years of ESOR have been marked by an outstanding growth in a wide range of modular activities, including foundation and advanced courses, teach-the-teachers and visiting professorship programmes, visiting schools, seminars, tutorials, preparatory courses for the European Diploma in Radiology (EDiR), scholarships, exchange programmes for fellowships and full one-year fellowships. So far, ESOR has delivered structured continuing education to almost 17,000 residents and board-certified radiologists worldwide, through 800 programmes.
Furthermore, ESOR has gradually evolved into a major international provider of complementary education in radiology, as it is now active worldwide. With its expanded outreach programmes, the ASKLEPIOS Courses, the AIMS Schools and Seminars, the Visiting Professorship Programmes and the intercontinental Scholarships and Exchange Programmes for Fellowships, ESOR is able to respond adequately to the actual needs of radiologists in the 'developing' world following agreements between the ESR and corresponding member societies. The importance of ESOR's contribution to this end can be better appreciated if one considers the statistics from the past few years. Of the 1,700 yearly participants in ESOR activities, 80% are steadily coming from the radiologically 'developing' world, while over 50% of the scholarships, along with 70% of the exchange programmes for fellowships, were granted to applicants from Eastern Europe, Latin America, China, the Middle East and Africa.
In addition to impressive numbers, ESOR is proud of being instrumental in mobilising the resources available for radiological education in Europe and the world, and for creating a long-term educational commitment and structured network – the ESOR community – through partnership. All of this hugely appreciated use of teaching resources has been implemented with the unlimited support of highly esteemed and renowned lecturers, tutors, mentors, volunteer reference training centres, local organisers, subspecialty and national societies, academic and research institutions, and valued industrial partners. ESOR is greatly indebted to them all.
Embarking into the next decade, in 2017 ESOR is enriching its portfolio, offering 37 courses, including 75 scholarship and fellowship programmes. New to this year's platform are three additional advanced courses dedicated to eastern Europe, one seminar offered jointly with the Interamerican College of Radiology (CIR) in Cancún, Mexico, one visiting professorship programme to Argentina, and three more full one-year fellowships to renowned academic departments in Europe.
I would like to encourage all of you to participate in and benefit from all ESOR programmes, to use the opportunities offered for exchange and interaction and to share the knowledge and skills needed to meet the requirements of today and tomorrow. I am confident that ESOR will maintain its leading role in serving our vibrant community for years to come and will continue to deliver successfully, connecting the world of radiology.
 Friday, March 3, 12:15–13:00, Room A
ESOR Ten-Year Anniversary Session
» Introduction
P.M. Parizel; Antwerp/BE
» ESOR in action 2017
Gourtsoyiannis; Athens/GR
» How to improve education in radiology
S.J. Golding; Oxford/UK
» Feeling confident? Evaluating competencies
Kolokythas; Seattle, WA/US
» Lifelong learning: stay sharp in the field of radiology
Ertl-Wagner; Munich/DE
» Find your mentor and stick together
C.A. Minoiu; Bucharest/RO
» Awards