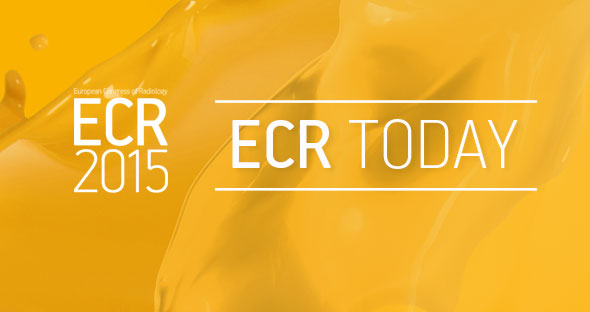 ECR Today spoke with the incoming ESR President, Prof. Lluís Donoso Bach, Director of the Diagnostic Imaging Department of the Hospital Clínic of the University of Barcelona and Executive Director of the UDIAT Diagnostic Centre at the Health Corporation Parc Taulí, to find out about his plans for the ESR over the coming year.
ECR Today: What will be your priorities as ESR President?
Lluís Donoso Bach: The ESR has a good track record in education and we will continue to innovate through the ECR. We will also open new learning centres in Vienna and Bogotá and are planning a further centre in Moscow.
Because of the financial crisis, it is more important than ever that we develop efficient systems, so we will increasingly rely on electronic, web-based services for our members. This is why we decided to launch the ESR eLearning Platform. This represents a big challenge, and we will see how it works as a business model and how our members use the platform throughout the year. We will also try to offer an examination for the European Diploma in Radiology online. There are a lot of experiences and successful models to draw inspiration from.
We will also continue our efforts in research through the European Institute for Biomedical Imaging Research (EIBIR). The ESR Research Committee has been working a lot on the quantification of data using biomarkers and biobanks, focusing in particular on oncology and trying to have more influence in that area. Quality and safety is another very important issue for us. During ECR 2015, we launched ESR iGuide, a clinical decision support system for European imaging referral guidelines, following the example set by the American College of Radiology with ACR Select.
We also want to offer our members tools to improve quality in their departments. The ESR Quality, Safety and Standards Committee has thus created Level 1 clinical audit templates based on safety. We should also explore the possibility of performing quality controls at the level of department management.
Lobbying with European institutions has been an important field of battle for us in the past few years, and we will consolidate our action in this field keeping the momentum and relying on the personal contacts and networks established over the past years. We launched a Call for a European Action Plan for Medical Imaging in the European Parliament on November 4, to highlight existing heterogeneities in medical imaging in Europe in the areas of quality and safety, education and training, research, and eHealth, and to call for joint targeted actions to improve harmonisation in these areas.

ECRT: Radiology is facing many threats but probably the biggest is the commoditisation of its services through excessive outsourcing. How do you plan to tackle that issue?
LDB: I have been working with teleradiology for the past 14 years and I think it's really important to differentiate between the types of teleradiology. There's the case when we occasionally work from home or other parts of the hospital, then there's teleradiology in regional networks where hospitals have an agreement, and then there's outsourcing, where a hospital contracts an external provider. And this is where radiologists are much more critical, because 'bad' outsourcing can lead to commoditisation of their services.
The ESR has always argued that teleradiology should be a medical act, which includes not only a report but also consultation with the patient, justification and control of the examination, and follow-up of the outcome. Outsourcing can also do that, but the problem is that some companies only offer the report for very low fees, and in our opinion this is what endangers the clinical part of our work.
We have published many position papers and work tirelessly with the EU Commission and Directorates General (DGs) in the European Parliament to defend our position, the problem is that we are not always heard.
ECRT: Harmonisation of training in Europe is still a challenge. The ESR European Training Curriculum for Radiology promotes a five-year plan, but not every country applies it. How can you encourage these countries to follow your recommendations?
LDB: Many countries have endorsed the curriculum (38 ESR institutional member societies and 28 ESR associate institutional member societies) and we have just finished writing up level III (subspecialisation). ECR 2015 has been organised around the curriculum, which is a good step. Our limitation is that we can only recommend, not oblige; in the end it remains a national decision.
ECRT: Will more candidates be able to sit the examination for the European Diploma in Radiology (EDiR)?
LDB: Yes. EDiR will be a sustainable model when more people have the qualification; it's a virtuous circle. The diploma is only three years old but there are already 30 or 40 candidates per examination session organised for national societies. For the session held during ECR 2015, almost 150 candidates have sat the examination. ECR 2015 has definitely been a milestone, since the programme has featured sessions to help young radiologists prepare for the diploma. The diploma is growing steadily and our objective is to have 1,000 candidates per year within three years.
ECRT: How well developed is e-health in Europe? What is the ESR's agenda concerning this issue?
LDB: Through EIBIR, we are currently exploring opportunities to include European topics in IT in the European research agenda. There are attractive initiatives, and our idea is to develop projects that the European Commission (EC) will want to get involved in and support. We are in contact with several Directorates General of the EC to raise awareness of our initiatives and we will invest a lot in this field.
ECRT: Biomarkers still have a long way to go before they are used in clinical practice and can unfold their full potential. Last year, the ESR began working with RSNA's Quantitative Imaging Biomarkers Alliance (QIBATM) with the aim of defining the structure of a similar alliance in Europe. How far has this project come?
LDB: In research you need repositories, interoperability, anonymisation, quantification and standardisation to share your work. In the United States, QIBA is tackling standardisation. Here in Europe, we have decided to continue collaborating with QIBA, but our strong point is really clinical application and validation. So instead of doing the same thing as the RSNA, we have decided to create a European Imaging Biomarkers Alliance, which will operate as a subcommittee of our Research Committee. This new group will be the European counterpart of QIBA and will accommodate our numerous activities in the field of biomarkers, personalised medicine and biobanks.
ECRT: The ESR launched the EuroSafe Imaging campaign last year to help improve radiation protection in Europe. What are the first results, a year later?
LDB: The campaign now has over 1,000 friends. We are working on the promotion of the campaign among the various stakeholders, including policy-makers at both European and national levels. For instance, I will take the opportunity to present the campaign when visiting some of the host countries of upcoming 'Society meets ESR' sessions in 2015 (Sweden, Denmark and Bulgaria). Then, in our own environments, we all try to raise the awareness of health professionals, patients and governments of radiation protection.
ECRT: As the current 1st Vice-President of the society, you must have a pretty good idea of what is awaiting you next year. What do you think are the necessary qualities for the job?
LDB: One first needs experience. The ESR is the largest radiological society in the world, so it's better if you've been working on some of the committees for at least five years beforehand.
You also need an open mind, to enjoy what you are doing and to like the opportunity to meet people. This kind of leadership experience is very positive for your daily practice, and it's also an opportunity to grow on a personal level.