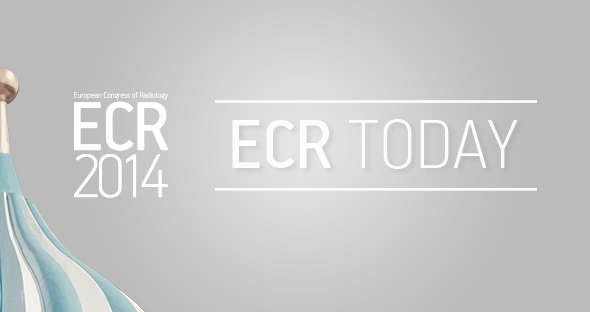 by Morton A. Meyers
In recognition of his great contributions to abdominal radiology and his insightful publications on the history of science and medicine, Prof. Morton A. Meyers from East Setauket, NY, United States, was invited to deliver the Samuil A. Reinberg Honorary Lecture entitled, 'The Tempestuous Genesis of MRI: Credit and Discredit' at ECR 2014.
Prof. Morton A. Meyers is distinguished professor of radiology and medicine, as well as chairman emeritus of the department of radiology at the State University of New York at Stony Brook (SUNY). He is author of the critically acclaimed books; Prize Fight: The Race and Rivalry to be the First in Science and Happy Accidents: Serendipity in Modern Medical Breakthroughs.
His book, Happy Accidents, won the prestigious CHOICE Outstanding Academic Title award in 2009 for excellence in scholarship and presentation, significance of contribution to the field and value as an important treatment of the subject.
In addition to teaching at SUNY, Prof. Meyers has served as visiting professor at more than 70 medical schools around the United States. He has also been in great demand as a lecturer, having received invitations to lecture in Japan, South Africa, China, Israel, Canada, Mexico and throughout Europe, to name but a few places. He has also received a number of awards from national and international societies, as well as the Walter B. Cannon Medal of the Society of Abdominal Radiology. Notably, he delivered the Opening Lecture at ECR 2003, since which he is proud to serve as an Honorary Member of the ESR.

Though well-known for his non-fiction accounts of scientific development, Prof. Meyers is an experienced radiologist and has published extensively within the field. His popular textbook Meyers' Dynamic Radiology of the Abdomen, hailed as 'the book that revolutionised abdominal radiology', is now in its sixth edition and has been translated into Spanish, Italian, Japanese and Portuguese. He has also been actively involved in the publication of medical and scientific work. He edited a series of volumes dealing with iatrogenic diseases and a major textbook, with 55 international contributors, on the staging of abdominal cancer, and he is the senior author of more than 200 articles – several of which have been designated as citation classics by the Science Citation Index, based upon their frequency of citation – and 70 book chapters. Prof. Meyers has illuminated the pathways of spread and localisation of cancer in the abdomen. He founded the internationally recognised journal Abdominal Radiology 38 years ago and continues to serve as its editor-in-chief today.