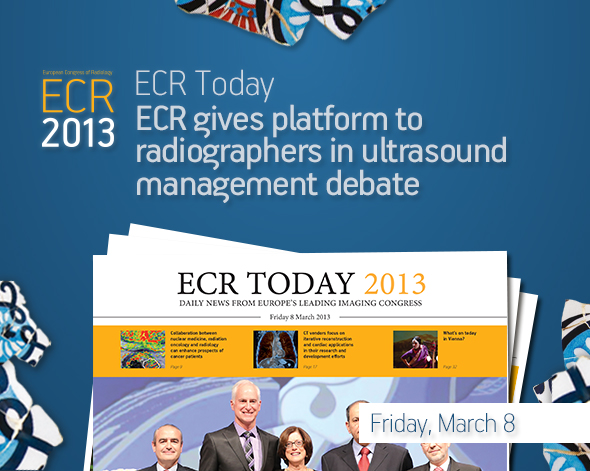 Watch this session on ECR Live: Friday, March 8, 16:00–17:30, Room F1
The global demand for medical imaging examinations has been growing rapidly over the past decade. Sustaining a workforce to match demand is becoming a challenge, as an increasing number of hospitals are facing a shortage of radiologists. Some countries have filled the gap by allowing radiographers to perform and interpret ultrasound examinations independently, to relieve the pressure on staff. This option continues to divide the European radiological community, and many seem to be against delegating a medical act to non-doctors. However, new educational opportunities and radiographers' growing interest in medical science are challenging this concept, a panel of radiographers will show during a Special Focus Session chaired by a radiologist and a radiographer at ECR 2013.
Ultrasound is a widely available modality and many medical specialists are using it without the help of radiologists, sometimes without sufficient knowledge and to the detriment of patients. However, radiographers who have received proper theoretical and clinical training know how to best use the modality and read images correctly, according to Dean Pekarovic, a radiographer at the University Hospital of Ljubljana, Slovenia, and member of the advisory board of the European Federation of Radiographer Societies (EFRS). "Ultrasound is a very competitive field, everybody wants to use it. But not everyone has the ability to perform an examination and interpret images appropriately. Radiographers with specific training are able to carry out such examinations and can even write reports on their own," he said.

In several EU countries, radiographers perform US-based musculoskeletal, urogenital and gastroenterological examinations, as will be shown during the session. "According to our perspective, radiographers who have received additional training can acquire ultrasound images alone, according to existing standards developed in conjunction with radiologists, who, due to technological evolution and the development of new devices, are shifting their professional activities to other imaging procedures," said Pekarovic, who will chair the session.
In Europe, radiographers are required to have at least a bachelor's degree, which they often complete with additional training in their field of interest. With the current model of bachelor-masters-doctorate, they now have the option of specialising in science, including medical imaging. Many are choosing to do so, and ultrasound is particularly attractive because it opens new fields of investigation, noted Professor Valérie Vilgrain, chair of the department of radiology at the University Beaujon Hospital, Clichy, France.
"Radiographers really want to expand their skills and it's very interesting for them to perform ultrasonography. Until now, they did a lot of x-ray, MR, CT and helped prepare the angiography suites for interventional procedures. Their role is very important, as they assist radiologists, prepare and set the machines, talk to the patient, help place them correctly in the machines, etc. US now offers them new possibilities, and many are motivated to explore this potential," said Vilgrain, who will also chair the session.
"Radiographers are interested in expanding their fields of activity. They already have many responsibilities and skills, especially regarding patient contact and radiation protection, they are totally able to carry out the whole examination and write the report," Pekarovic added.
Ultrasonography is considered a medical procedure in France, meaning that doctors are responsible for the examination, from leading the initial clinical investigation to writing the medical report. To this day, radiographers have not received authorisation to carry out these examinations independently, but this is currently under evaluation at Nancy University, which is running a dedicated regional trial, the Lorraine protocol. If positive, the experience could be extended nationally.
"This test reflects just how important these questions have become. It's a hot topic and a very delicate situation. Europe is really divided, every country has a different approach. Meanwhile, there is a pressing need to find competent staff to image patients. We really need to ask ourselves whether we can do everything by ourselves and whether our strategies are efficient or not, and consider what is going on in other countries," said Vilgrain, who suggested taking a look at healthcare management in North America.
"For instance, in the United States, radiologists remain legally responsible, but it is the radiographers who perform the ultrasound examination. Radiologists read the ultrasound images, sometimes monitor several ultrasound examinations in the same time, and complete the report if necessary. This has been working for years in North America, so it makes us wonder whether it could work here as well, even if ultrasound tends to be much more commonly used in Europe," she explained.
Another thing to consider is the expanding nature of radiology and its growing trend of subspecialisation. "You have so many possibilities offered by CT, MRI and even US nowadays. The technology has changed a lot, it is extremely varied. Radiologists tend to be specialists, but they cannot specialise in five or six different fields. So you need more specialised staff if you want to provide quality service," Pekarovic said.
Just how much of a hot topic the management of ultrasound has become is perhaps best shown by the fact that, for the first time, radiographers have been invited to take part in a Special Focus Session, one of the ECR's most prestigious and popular sessions. Radiologists and healthcare managers should find it useful to learn about the ultrasound experience of radiographers from three European countries. But this is just the beginning of a long and complex process, Vilgrain believes.
"It's interesting for radiologists to see what is happening in Europe. The debate is far from over I think, these are single experiences. Governments also have a role to play in this equation. Many say that it would be cheaper to have non-doctors perform medical procedures, but it requires a real evaluation to know whether it is efficient or not. Radiology is expanding, everyone must have their place but there's plenty of space. When sharing competences is necessary, then we have to talk about it. We need to think about our profession, because it has changed enormously. We need a real discussion about this. What we also need is more cooperation with radiographers, which for the moment hasn't really started because our objectives and how to fulfil them have not yet been defined," she said.
Special Focus Session
Friday, March 8, 16:00–17:30, Room F1
SF 7a: Radiographers and ultrasonography in Europe
• Chairmen's introduction
D. Pekarovic; Ljubljana/SI
V. Vilgrain; Clichy/FR
• Levels of training and competencies across Europe
M. Stanton; Dublin/IE
• The role and impact of the radiographer conducted US in Portugal
R. Ribeiro; Lisbon/PT
• Evolution of radiography education for US in the Netherlands since 1990, and its influence on their role
G. Plug; Haarlem/NL
• Panel discussion: What are the challenges and barriers facing role extension?