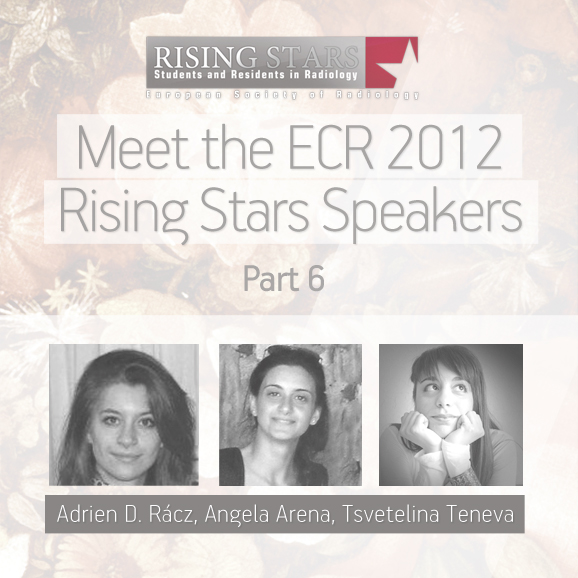 Welcome to the sixth installment of our series introducing our Rising Stars, who submitted the best student abstracts and have been invited to present their work at ECR 2012 in front of a real congress audience. Each speaker will be announced individually on the Rising Stars Facebook page, with a more detailed look, including their full abstracts, here on the ESR Blog. Our next three speakers are Adrien D. Rácz, Angela Arena and Tsvetelina Teneva: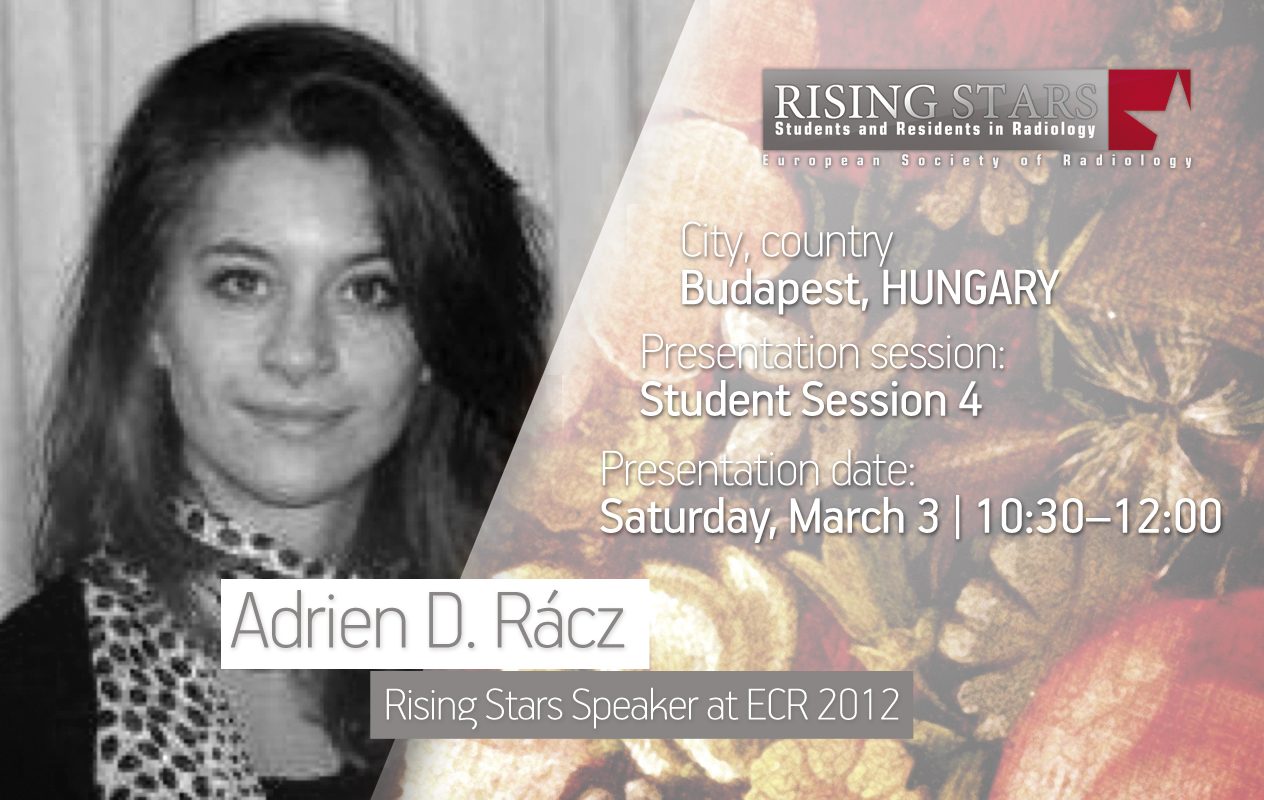 ECR 2012:
Student Session 4 | March 3, 10:30 – 12:00
CV (excerpt):
Education/Profession:
Since 2007  Studying General Medicine at Semmelweis University, Budapest, Hungary
February 2011 – June 2011  ERASMUS scholarship in USAL, Universidad de Salamanca
Extracurricular activities:
Since 2007  Member of the University basketball team, 2x champion of the Medical Basketball Championship of Hungarian Medical Universities.
Abstract:
Time of flight (TOF) Magnetic Resonance Angiography (MRA) is a non-invasive, non-radiation-based, non-contrast, high-resolution technique with high negative predictive value which is a widely used technique for visualising cerebral arteries. Despite its limitations it helps us a lot in daily practice.
TOF angiography is based on exploiting the flow phenomena of excited particles in the vessels. This movement of longitudinal magnetisation can be detected as signals. Thanks to the acquisition of thin slices and isotropic voxels TOF MRA gives us a 3D image. This enables high quality and better spatial resolution and post-processing options such as multi-planar reconstruction and volume rendering. In some clinical settings the gold standard digital substraction angiography (DSA) can be replaced by 3D TOF MRA.
Through many cases we have shown how 3D TOF angiography is ideal for visualising the intracranial vessels and its anomalies. In everyday neuroradiology 3D TOF is used to diagnose aneurysms, cerebral artery anomalies, and developmental venous anomalies. On the other hand it sheds light on rare, but clinically important cases such as inflammatory and degenerative angiopathies, postoperational follow-up of aneurysms or patients who underwent carotid artery stenting, and also plays an important role in the cerebrovascular imaging of children.
3D TOF is a non-enhanced, high resolution MRA technique that enables the high quality imaging of cerebral arteries and many arterial anomalies, common ones as well as rare ones too. Because of its high negative predictive value it is very reliable in certain clinical cases and therefore can replace the gold standard DSA.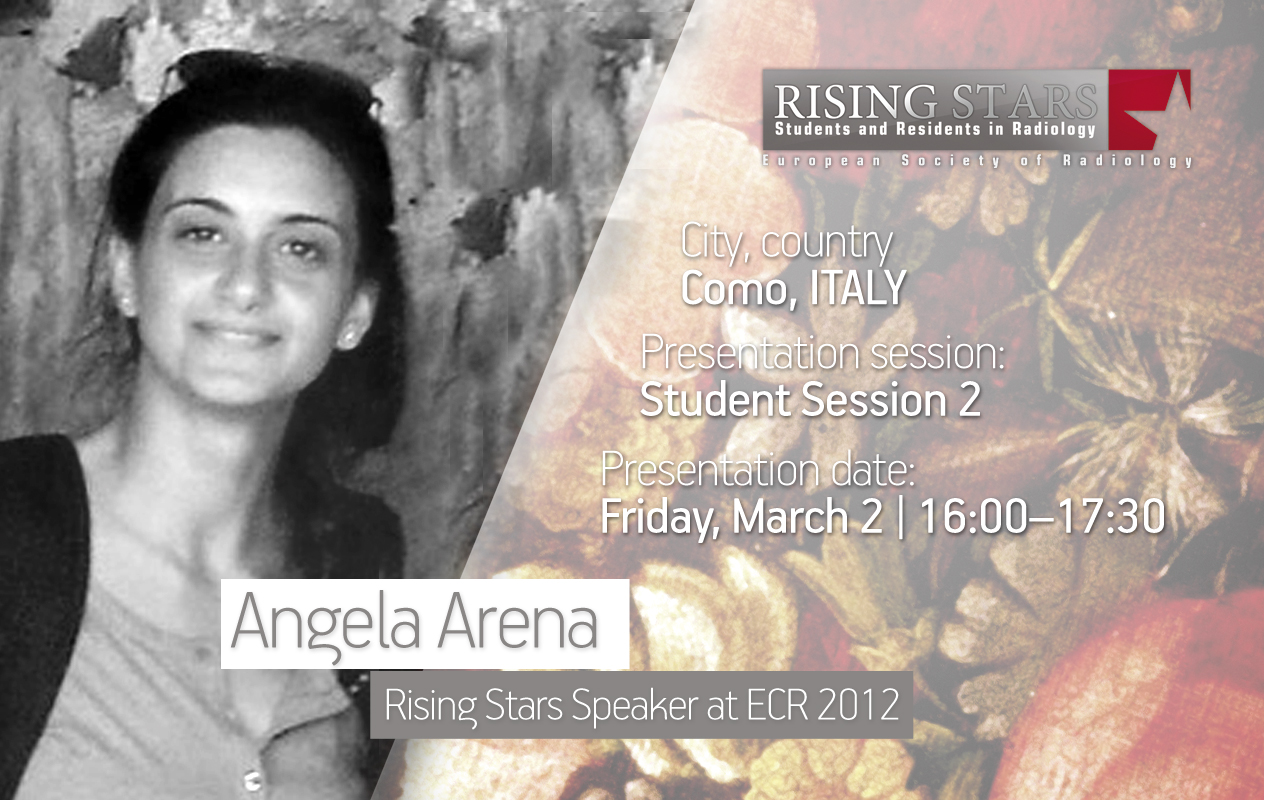 ECR 2012:
Student Session 2 | March 2, 16:00 – 17:30
CV (excerpt):
Education/Profession:
6th year student of Medicine at Milan University, Milan, Italy
Abstract:
One potential radiology development by 2051 is further subspecialisation, not in techniques, but in systems and disease using the whole spectrum of imaging modalities. In this context, emergent areas could be cardiac, emergency, and oncological radiology. The challenge will be to keep the unity of radiology as a whole science and medical discipline. The risk is a dangerous imaging fragmentation caused by clinicians taking away the independent 'second opinion' supplied by radiologists. The further spread of interventional radiology (IR) will be a key point. Imaging-guided therapies will be the best option for an increasing number of diseases, especially small tumours incidentally detected by cross-sectional techniques, reducing the impact of overtreatment resulting from overdiagnosis. The amazing development of hybrid machines (CT-PET and MR-PET) will fuel the trend towards the fusion of radiology and nuclear medicine, also pushed by the increasing availability of techniques for cellular and molecular imaging. The distribution of electronic images in the context of open interdisciplinary cooperation will pose a challenge to radiologists in maintaining the prestigious role of interpreter. This will only be possible if radiologists outperform other physicians due to higher and higher technical and clinical expertise. Finally, future radiology may include new techniques we cannot foresee now. In 1895 X-rays were the future and the rise of MRI in the eighties was unexpected. Now, 30 years later, x-rays have evolved into multidetector CT while MRI has revolutionised the world of diagnostic imaging.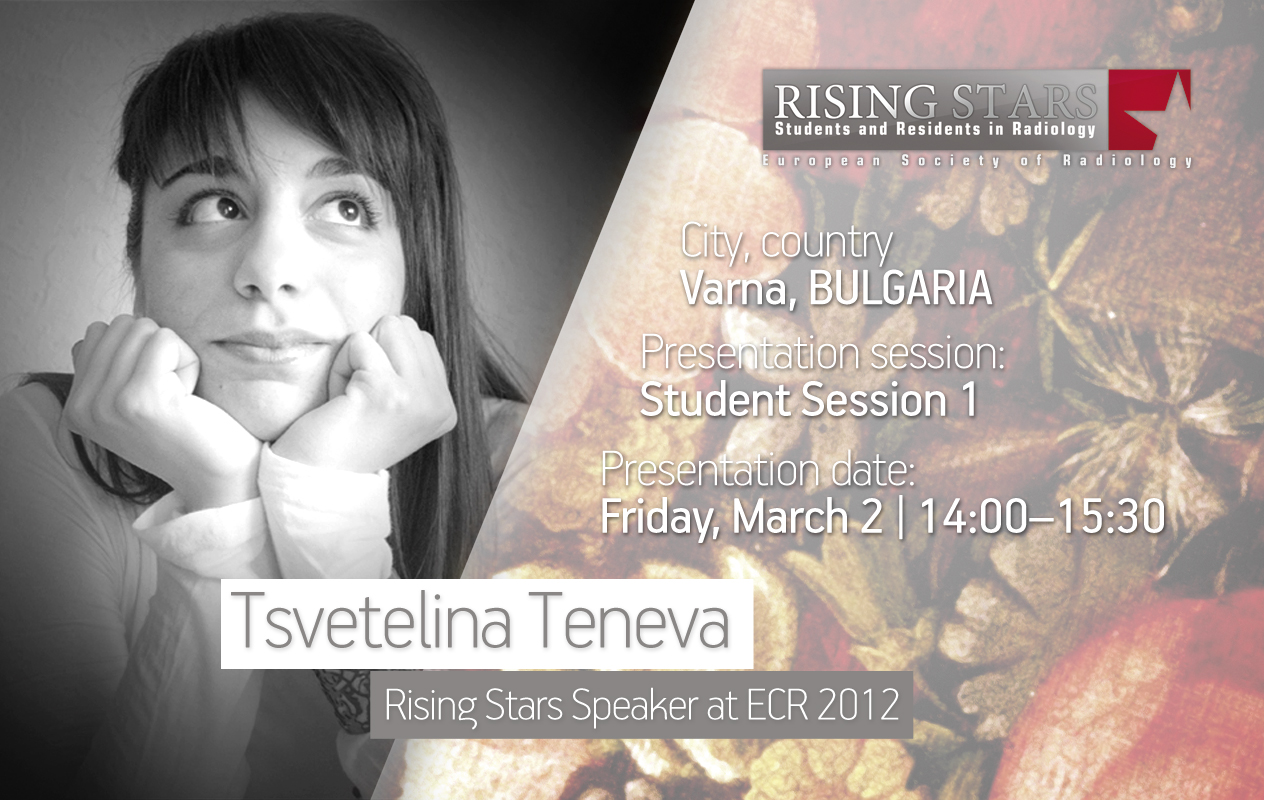 ECR 2012:
Student Session 1 | March 2, 14:00 – 15:30
CV (excerpt):
Education/Profession:
Since 2006  Student at Medical University Varna, Bulgaria
Abstract:
In half a century all physicians will be radiologists. Nowadays every medical specialisation (gynaecology, gastroenterology in particular) try to make all imaging decisions by themselves, but in the future there will be many subspecialisations within radiology, which will, by then, completey occupy medicine. The radiological work will not only consist of examination selection, protocol design, and interpretation of the imaging data set. Radiology will be more interventional (image guided surgery), more functional (functional neuroimaging in support of the Human Cognome Project), more molecular and genetic (not PET-CT, but GET-CT- gene evaluating tomography), more curative (expected progress in Oncoradiology). Nevertheless there will be more scientific work. Many changes are expected in radiological education through social media – more eLearning possibilities like EDIPS, EURORAD, radiopaedia.org etc. More international exchange programmes for students, residents, specialists, and more European Schools of Radiology. All this will lead to the standardisation of radiological knowledge and experience throughout Europe and, hopefully, worldwide. This will also be possible through teleradiology, a part of telemedicine, using one specialist for many procedures in many countries at the same time (one lecturer for many medical universities in many countries at the same time). The last point to discuss is technological change. There will be X-Ray vision (The lady with the X-Ray eyes by the Bulgarian fiction writer S. Minkov). The doctor will be able to see directly through the patient with some kind of high-tech glasses, or lenses for 3D-X-ray vision. As a result the physician will be able to immediately diagnose the pathological findings. I conclude, then, with two words: Quantum mutata (so much has changed) – the motto of  the physician in 50 years.