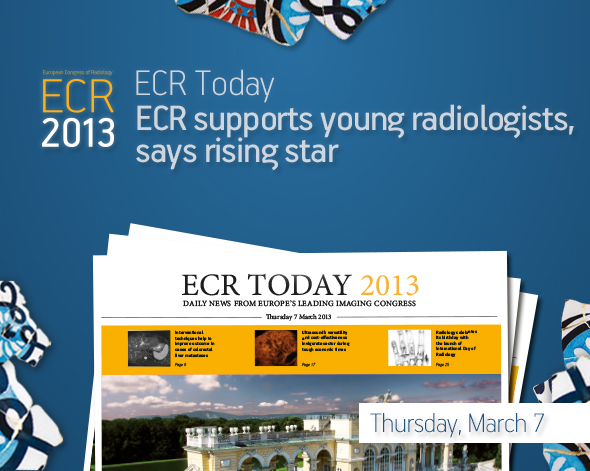 Dr. Alexander Sachs, the Rising Stars representative on the ESR's Undergraduate Education Subcommittee, talked about his numerous projects and his passion for teaching in an interview with ECR Today.
ECR Today: When did you first take part in the Rising Stars programme?
Alexander Sachs: I first took part in the Rising Stars programme in 2011. I applied to present Sono4You, an ultrasound peer-teaching student project, which I had become involved in. It was the first time I gave a presentation in front of a large audience, but I thought I would just give it a try and so I took a practical approach.
ECRT: It seems it paid off since you were elected best student presenter.
AS: Yes, it did have some positive effects. The year after, the ESR asked me if I wanted to coordinate the Hands-on Ultrasound Workshops at ECR 2012, which are strongly connected to the Sono4You tutorials. It was a great opportunity. It went really well and we are repeating the experience this year, with one advanced session and three basic workshops.
I like the idea of raising young people's interest in radiology. In doing so, I am in contact with many people internationally, be they students or teachers. I really enjoy meeting people of different ages with different ideas; it is quite interesting to see what happens, how they connect, and the results of their cooperation.
ECRT: Can you please tell us about some of the new features of Rising Stars at ECR 2013?
AS: The Sono4You workshops will offer more advanced content to match the level of first-year radiology residents. Generally, the contents will be more interesting; thanks to the feedback we received last year.
Another nice development is that people have become more motivated to enrol as tutors for the peer-teaching sessions. Last year, I really had to motivate people to do so, but now it is much easier, there is a much bigger interest on their part. More students are participating in the programme every year, and I am happy to add my experience or work to this initiative.