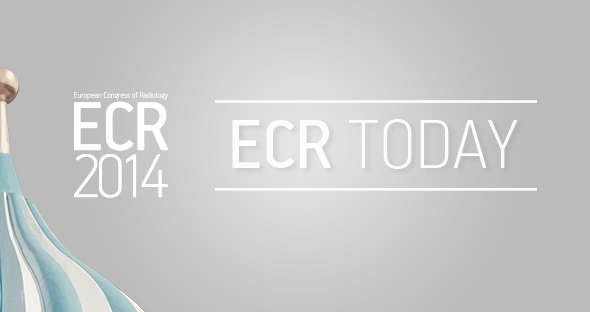 In recognition of his great service to scientific publishing in Europe and his distinguished clinical career, Professor Adrian K. Dixon from Cambridge, UK, was awarded the Gold Medal of the European Society of Radiology at ECR 2014.
Adrian K. Dixon is Master of Peterhouse, the oldest College at Cambridge University, and Emeritus Professor of Radiology, having been head of the department of Radiology for 15 years. He is also an honorary consultant radiologist at Addenbrooke's Hospital, Cambridge.
From an Irish background, he was born in Cambridge where he earned a bachelor's degree at King's College. He qualified in medicine after clinical studies at St. Bartholomew's Hospital London. He then specialised in general medicine, gaining his MRCP in 1974 before deciding to pursue a career in radiology (an appropriate career in view of his profound deafness). He qualified as a radiologist in 1978 and worked in paediatric radiology at Great Ormond Street Hospital, and in computed tomography at St. Bartholomew's Hospital. In 1979, he became a lecturer at the University of Cambridge's department of radiology. He earned his doctor of medicine degree for his thesis on computed tomography of the lumbar spine. In 1986, he was elected a Fellow of Peterhouse, where he became director of medical studies.

"The team spirit within radiology, whether in a hospital department, an editorial team or an organisation such as the ESR, is a most stimulating feature of one's professional life. We are truly lucky and privileged to be in such an exciting specialty where it is, quite simply, impossible to be bored!" said Prof. Dixon as he reflected on his long career.
Throughout his career, Prof. Dixon has been actively engaged in the field of scientific publishing, as both author and editor. He has published extensively in the areas of computed tomography, magnetic resonance imaging and various aspects of effectiveness within radiology. This is in addition to having written and co-edited various books on CT, anatomy and diagnostic radiology. He also served as editor of the journal Clinical Radiology from 1998 to 2002 and Warden of the Faculty of Clinical Radiology of the RCR from 2002 to 2006. He was awarded Fellowship of the Academy of Medical Sciences in 1998.
In 2007, Prof. Dixon was appointed editor-in-chief of European Radiology, where he served until December 2013. His tenure as editor saw a steady increase in submissions and consolidation of the journal's impact factor. He has received a number of awards throughout his career and he is an honorary member of the national radiological societies of France, Hungary, Spain, Sweden, Switzerland and the USA, as well as being an honorary fellow of the Royal Australian and New Zealand College of Radiologists and the Faculty of Radiologists at the Royal College of Surgeons in Ireland. In recent years, the universities of Cork and Munich have awarded him honorary doctorates in medicine.