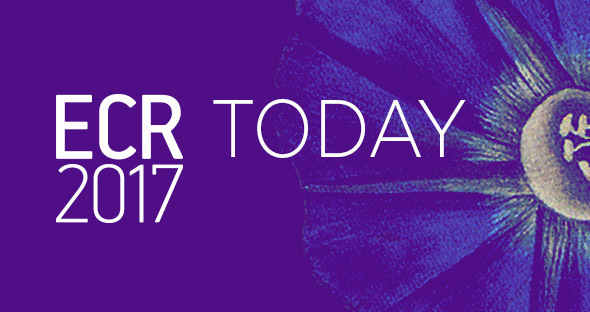 Watch this session on ECR Live: Wednesday, March 1, 16:00–17:30, Room F2
#ECR2017
 There is hardly any area of hospital medicine where interventional radiology (IR) has not had some impact on patient management. The range of conditions that can be treated using interventional radiology techniques is continually expanding.
In today's session, experts will provide an insight into image-guided interventions in oncology with a particular focus on illustrating the importance of quality assurance in image-guided oncological interventions and their effect on treatment outcomes.
In recent years, IR has played a vital role in the field of oncology, and alongside medical, surgical and radiation oncology it constitutes a key pillar in cancer care. Vascular and non-vascular procedures such as transarterial chemoembolisation, radiofrequency ablation (RFA), microwave ablation, radioembolisation, cryoablation and high-intensity focused ultrasound (HIFU) are delivered locally, minimise damage to nearby tissue and avoid the systemic side effects of chemotherapy.
For the interventional radiologist providing oncologic therapies it is essential to understand the rapidly changing field of oncology and to have a broad knowledge of oncologic diseases and available therapies to treat them. Radiologists providing image-guided interventions in oncology have an outstanding understanding of imaging as well as a diversity of interventional skills. However, they lack formal training in oncology and an understanding of chemotherapy and radiotherapy, according to Prof. Andy Adam from the Department of Radiology at Guy's and St. Thomas' Hospital in London.
"Insufficient knowledge of medical, surgical and radiation oncology and the unwillingness to practise as a clinician are currently, among others, the biggest challenges for interventional radiologists working in the field of cancer care. Practising as a clinician makes it easier for the interventional radiologist to prepare the patient appropriately, to obtain true informed consent and to ensure adequate follow up. It is very important to consider the patient and not the image," he emphasised, adding that interventional radiologists practising in this field need to take primary clinical responsibility for their own patients before and after a procedure, as well as during it.
According to Adam, this is the only way to ensure that interventional radiological procedures are put in perspective in relation to other potential methods of treatment; that complications are treated effectively and promptly; and that recurrent or residual tumours are detected and re-treated appropriately. Furthermore, he sees a problem in the lack of sub-specialisation.
"It is a disadvantage when communicating with physicians of other medical disciplines. The interventional oncologist should understand the disease and be familiar with treatment alternatives other than those offered by interventional radiology. Sub-specialisation in interventional oncology is likely to increase and has substantial advantages, as it provides a clear path for referrals and makes it easier for interventional oncologists to participate fully at multidisciplinary meetings," said Adam.
In his presentation, Adam plans to highlight the importance of clinical practice in image-guided interventions in oncology and to outline the related curriculum that is being developed.
"The curriculum will focus on the basics of the biology and physiology of cancer and the essentials of medical, surgical and radiation oncology, as well as on the advanced understanding of interventional radiological procedures employed in the treatment of cancer patients," said Adam.
Following Adam's presentation, Dr. Lizbeth Kenny, from the Division of Oncology at the Royal Brisbane and Women's Hospital in Australia, will discuss the importance of quality in image-guided interventions in oncology and the content of practice standards, which have been developed by the Cardiovascular and Interventional Radiological Society of Europe (CIRSE) for that purpose. The 14 standards, which have been broadly divided into three areas, including facility management, treatment planning and delivery, and safety and quality management, will support quality care for patients in the future.
Prof. Philippe Pereira, from the Clinic of Radiology, Minimally Invasive Therapies and Nuclear Medicine at SLK-Kliniken Heilbronn, Germany, on the other hand, will look at a different angle in his talk. He will specifically outline the evidence base for image-guided interventions in oncology as well as major current trials and registries. "High-quality guidelines are necessary for a structured knowledge transfer. Evidence-based guidelines serve as a basis for the optimisation of disease management programmes and for the definition of quality indicators, which are being used for the certification process of comprehensive cancer centres," he said, emphasising that evidence-based guidelines and standard operation procedures are an important tool for the medical community in general, but especially for oncology, a discipline for which multidisciplinarity and combined therapies are essential for treatment success.
"Nevertheless, it must be noted that apart from hepatocellular carcinoma and more recently for colorectal cancers, international recommendations of expert societies do not seem to recognise the real value of interventional oncology due to many reasons. The expertise for these treatments is still limited; only a few hospitals have radiology departments that can offer the entire spectrum of interventional oncology that is necessary for them to be dependable partner for oncologists, surgeons, hepatologists, urologists or radiation therapists. Furthermore, there is still a relatively low level of evidence of clinical trials within interventional oncology. A lot of international studies provide levels of evidence that remain lower than those usually encountered in oncology. Additionally, in some European countries, a certain level of competition between medical disciplines restricts the development and the establishment of interventional treatments in standard algorithms. Finally, performing large clinical studies remains challenging without the support of large pharmaceutical companies," explained Pereira.
Also in this session, Prof. Eric de Kerviler, from the Department of Radiology at the Saint-Louis Hospital in Paris, will provide an update on how molecular imaging and image fusion are shaping oncology and will also summarise the main developments in molecular imaging.
Special Focus Session
Wednesday, March 1, 16:00–17:30, Room F2
SF 4a Image-guided interventions in oncology: the pieces of the jigsaw
» Chairman's introduction
J.I. Bilbao; Pamplona/ES
» How molecular imaging and image fusion are shaping oncology
de Kerviler; Paris/FR
» Registries, trials and the evidence base
P.L. Pereira; Heilbronn/DE
» Clinical practice: why it matters and how to do it
Adam; London/UK
» Quality assurance: an essential development
L.M. Kenny; Brisbane/AU
» Panel discussion: What will be the future of image-guided interventions in oncology?
(All images provided by Prof. Philippe Pereira)