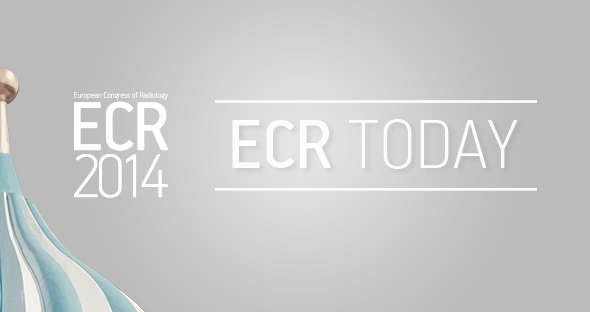 by John Bonner
MRI has opened up the human body for radiologists to explore with remarkable precision and to gather clinical information of enduring value for physician colleagues, but the liver has so far proved a real diagnostic challenge. A combination of the organ's complex vasculature and motion effects in free-breathing patients have meant that other modalities have often been chosen instead of MRI, particularly when looking for metastases in oncology cases.
This situation is changing due to the efforts of imaging vendors who have been working on expanding the role of this technology in body imaging. Visitors to the commercial exhibition can inspect a new software application which improves temporal resolution in MR images along with other developments that make scans both safer and more comfortable for patients.
SIEMENS is unveiling a technology that it says will make contrast-enhanced liver imaging fast and robust and allow free-breathing dynamic liver imaging, giving more patients access to high quality MR-based abdominal imaging.
Dr. Bernd Ohnesorge, chief executive of Siemens' MR business unit, explained that the key software technologies underlying the company's new Twist-Vibe and StarVibe features will be available together as a package called FREEZEit. The former is a sequence that offers high temporal and spatial resolution with full 4D coverage for multi-arterial imaging with 100% precise contrast-timing. Meanwhile, StarVibe is an application that delivers robust, free-breathing, and contrast-enhanced exams for non-compliant patients by resisting motion artefacts.
"These are acceleration techniques that allow us to do body and liver imaging at such high speed that it creates a genuine breakthrough in temporal resolution. So even in an organ as notoriously difficult to image as the liver, we can eliminate motion artefacts while also substantially enhancing contrast timing. Together that makes for a very accurate diagnosis," he said.

FREEZEit will be commercially available from summer 2014 onwards in Siemens Magnetom Aera 1.5T and Magnetom Skyra 3T scanners, and this technology offers the first step in the process of making MRI a more appropriate modality for use in staging early cancers. By providing full high-resolution liver exams in two to three seconds with about 1 mm spatial resolution, it not only removes the problem of motion artefacts but also produces high-quality images, enabling the accurate detection and characterisation of small lesions. In time, the software produced for liver imaging could be adapted for investigations into other organs such as the breast and lungs, Ohnesorge suggests.
At ECR 2014, TOSHIBA is introducing a reportedly compact and cost-effective new scanner that comes equipped with a number of features intended to make an MR imaging procedure a more comfortable experience for the patient. With a mere 23 sq m footprint, the 1.5 Tesla Vantage Elan unit is equipped with the same advanced features available in other systems within the company's MRI product range. They will include the M-Power clinical application software suite and the Pianissimo noise reduction technology, which aims to provide a more pleasant working environment for the technician as well as the patient.
To further reduce the stress of an examination, Vantage Elan has a 63 cm aperture and has been designed to facilitate feet-first imaging for all studies apart from those involving the head or upper torso.
"There is also the option to tilt the patient's head 10 or 20 degrees in order to make the patient feel a little more comfortable. Moreover, the new light design of the board helps reduce the claustrophobic feeling that many patients experience," said Hans Baartman, senior product manager for Toshiba's European MRI business.
Full angio and cardio suites are available, and the body package can be extended to include the SpineLine application, offering fully automated planning of spine examinations. In addition, the inclusion of Toshiba's advanced non-contrast MR angiography technology, which allows vascular imaging without the use of contrast, will reduce potential health risks for the patient and make the procedure more cost-effective, the company suggests.
GE HEALTHCARE is another vendor that has been concerned about the potential distress caused by excessive noise in some older MR machines, and last year introduced its own proprietary technology, called Silent Scan. This year it is unveiling a software upgrade that includes tools for carrying out quieter procedures in more clinical areas.
The company points out that machine noise during a conventional scan can sometimes exceed 110 decibels, equivalent to the sound level near the stage at a rock concert. This is caused by vibration in the coils resulting from rapid changes in field strength. Silent Scan is based on a novel data acquisition method where gradients are used continuously, but are not rapidly switched on or off. Thereby, mechanical vibration is eliminated and virtually no noise is generated during the process, according to the company.
The new applications are contained within the DV24.0 Continuum Pak software upgrade. They include special applications for neurological investigations and MR angiography. The new software will also enable productivity improvements of up to 30% compared with previous generation systems, due to workflow enhancements based on GE's new eXpress PreScan and Workflow 2.0 features. The company says the package has also been designed to increase diagnostic confidence, by including a 3D imaging technique with real-time motion correction called Promo. It is available with the Optima MR450w and Discovery MR750w systems.
Sometimes it is not just the new technology that catches the eye of radiologists visiting the commercial exhibition at ECR, but it may be a company demonstrating a novel application for an established clinical tool. For instance, staff at the HITACHI stand are highlighting the possibilities of combing images from two of its existing imaging devices, a fusion between MR and ultrasound, especially for use in guiding prostate biopsies.
The company has been supporting the work of Prof. Dr. Thomas Fischer, head of the interdisciplinary ultrasound centre at the Charité, Berlin. His group has been evaluating whether prostate cancer detection rates using transrectal ultrasound-guided biopsy may be improved by an image fusion of a contrast-enhanced elastography imaging and MRI. Initial findings were encouraging, and the company is discussing plans for follow-up studies.
In the MRI section of the PHILIPS booth, upgrades and enhancements are being highlighted, such as Smart-Path to dStream, the vendor's digital broadband MRI technology. The company is promoting the latest release of dStream, which includes applications in neurology, trauma, paediatrics, and fatty liver patients, as well as routine fat saturation.
This article originally appeared in ECR Today, the congress newspaper of the European Congress of Radiology.