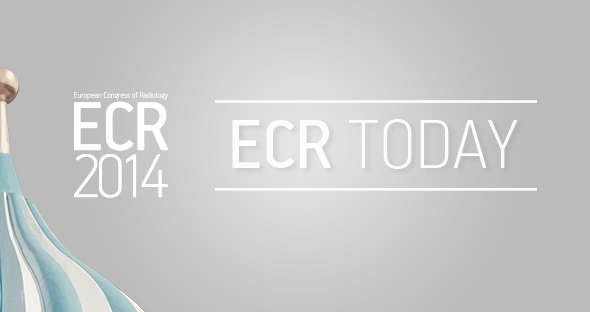 by John Bonner
MRI has opened up the human body for radiologists to explore with remarkable precision and to gather clinical information of enduring value for physician colleagues, but the liver has so far proved a real diagnostic challenge. A combination of the organ's complex vasculature and motion effects in free-breathing patients have meant that other modalities have often been chosen instead of MRI, particularly when looking for metastases in oncology cases.
This situation is changing due to the efforts of imaging vendors who have been working on expanding the role of this technology in body imaging. Visitors to the commercial exhibition can inspect a new software application which improves temporal resolution in MR images along with other developments that make scans both safer and more comfortable for patients.
SIEMENS is unveiling a technology that it says will make contrast-enhanced liver imaging fast and robust and allow free-breathing dynamic liver imaging, giving more patients access to high quality MR-based abdominal imaging.
Dr. Bernd Ohnesorge, chief executive of Siemens' MR business unit, explained that the key software technologies underlying the company's new Twist-Vibe and StarVibe features will be available together as a package called FREEZEit. The former is a sequence that offers high temporal and spatial resolution with full 4D coverage for multi-arterial imaging with 100% precise contrast-timing. Meanwhile, StarVibe is an application that delivers robust, free-breathing, and contrast-enhanced exams for non-compliant patients by resisting motion artefacts.
"These are acceleration techniques that allow us to do body and liver imaging at such high speed that it creates a genuine breakthrough in temporal resolution. So even in an organ as notoriously difficult to image as the liver, we can eliminate motion artefacts while also substantially enhancing contrast timing. Together that makes for a very accurate diagnosis," he said.