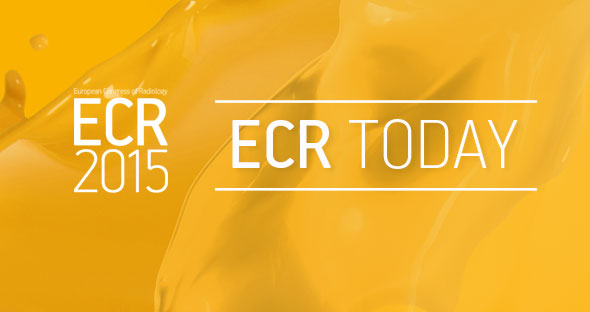 Since the discovery of the x-ray, radiology and radiation oncology have been sister disciplines. Recent progress has brought increasing points of interaction between the two and this is no better exemplified than by the close relationship between the ESR and the European Society for Radiotherapy and Oncology (ESTRO). The two societies will host a joint session at ECR 2015 focusing on this partnership and opportunities for future collaboration. To find out more about the session, ECR Today spoke to session co-chairman and ESTRO president, Prof. Philip Poortmans, of the Radboud University Medical Center, Nijmegen, Netherlands.
ECR Today: How was this joint session between the ESR and ESTRO first initiated?
Philip Poortmans: The time of medical specialties working on their own is over. It is now all about cooperation and multidisciplinarity. Often when we talk about multidisciplinarity, people think only about doctors who are directly involved in treating the patient. In the case of breast cancer, for example, this would then be the surgeon, the radiation oncologist, the medical oncologist and in several countries also the gynaecologist. People often forget about diagnostic specialists like the pathologist and the radiologist. Radiation oncology is very closely linked to imaging in general; both to radiology and to nuclear medicine. So it is a field that is very important for us and a specialty with which it is essential for us to cooperate closely. For many years, ESTRO has run courses with contributions from radiologists and nuclear medicine specialists to teach our young colleagues, or colleagues who want CME, about the contribution of the diagnostic specialties. So this is not new at all. ESTRO and the ESR have an especially close relationship, with the former president of ESTRO, Prof. Vincenzo Valentini, and the ESR president, Prof. Lorenzo Bonomo, working in the same hospital. People in such positions who know each other very well can facilitate this process of close collaboration which then benefits us all. Of course, this means that last year we already had a joint session at the ECR. This collaboration is based on a Memorandum of Understanding signed by both societies, which includes agreements about education, guidelines, and scientific dissemination. A congress is of course always a mixture of both scientific dissemination, bringing new findings to the community, and education, so this nicely fits our mutual commitment.

ECRT: The development of radiology and radiation oncology have always been very closely linked. What are the 'new chances for a partnership' referred to in the title of this session, and how was this theme chosen?
PP: The theme was chosen because many radiologists work in hospitals where there is no radiation oncology department. However, radiation oncology is spreading; not in such a way that every hospital in the future will have its own department, but it is likely that more institutions will have connections with a radiation oncology department within a local or regional network. So, in the future, more and more radiologists will need to know how to collaborate effectively with radiation oncologists.
Until quite recently, radiation oncologists have not needed radiologists a great deal, because we are trained in doing treatment preparation using imaging ourselves. This is changing rapidly. We are no longer just using plain diagnostic images, but we are more and more using functional imaging using PET and MRI, as well as the new developments in CT and 3D ultrasound. We are also increasingly adapting our treatments to changing aspects of the tumour. For example, when a tumour shrinks, the radiation fields needed for treatment can be made smaller.
We are used to working with CT on a daily basis, but in the near future we will progressively use MRI. Treatment machines with integrated CT have been around for nearly ten years now, but machines with integrated MRI are a new and very exciting development.
And finally, the whole field of oncology is changing. We are moving at quite a speed from the traditional classical approach of taking as much of the tumour out as possible. That's the basic surgical approach, which is still successful for many patients. But more and more patients are being treated with a combination of therapies and this sometimes leads to an excess of treatment. For example, we know now, based on results from patients with inoperable lung cancer, that other approaches can be successul. This can be radiation therapy, but there are others. If you have a small tumour, you can treat it fairly efficiently with radiation therapy, but you can also introduce a probe into it and heat the tumour to cook it from the inside. This is not radiation oncology, but interventional radiology, so there are areas where we overlap. It is sometimes said that we are in competition, but this is simply because we don't know each other well enough. Working in partnership, with a better understanding of our partner disciplines, we can offer the best approach for the patient community.
ECRT: How have the individual topics been selected for this year's joint session? Why are these areas particularly worthy of focus?
PP: First we have a presentation called 'Imaging in oncology: achievements and limitations' and this is to show clearly what the contribution of diagnostic imaging can bring to radiation oncology. We are at a radiology congress, so this is to inform radiologists how they can contribute to the optimal functioning of the radiation oncology department, especially in terms of functional imaging. Next, we have 'Interventional radiology in oncology: achievements and limitations' which is the same idea, but specific to interventional radiologists. We want to illustrate how we complement each other and that collaboration is the best way to improve the outcome for the patient; not competition. There are certain indications with a low risk of complications, where radiation oncology is the obvious option, but there are others where the risk of complications is higher and where interventional radiology can do a better job, and the other way around. So we have to learn from each other, if you have a certain tumour, on which aspects to base the selection of the most appropriate treatment. The final talk, on 'Interventional radiology and radiation oncology: working together' is about exactly that.
ECRT: Can you tell us something about the speakers and how they were chosen?
PP: As a joint session, there is a mixture of expertise among the speakers, with two having been proposed by the ESR and the third speaker being chosen by ESTRO. Dr. Vicky Goh, from London, U.K., is president of the European Society of Oncologic Imaging, and a consultant oncological radiologist, so her insight will be extremely valuable. Then we have Prof. José Bilbao, from Pamplona, Spain, who is vastly experienced in the field of interventional radiology and will be well known to many attendees as the ECR 2013 Congress President. Finally, Dirk Verellen is not a radiation oncologist, but an extremely high level medical physicist who is also an exceptional presenter. He knows a huge amount about new developments, and has contributed to many of them himself, so he can show to the radiology community how far we can go and what he expects in the near future.
ECRT: What would be your message to ECR participants who might consider attending this session?
PP: Everybody can profit from this session because it will be of general interest to all, but the level of presentations is such that it is especially attractive to people who are at least partially involved in the field of oncology. Particularly for younger colleagues who want to have a really visionary view of what the future can offer, this will really be a fantastic opportunity. The main takeaway message is to meet your radiation oncologist, whether they are in your hospital or in a network of hospitals; explore where you can work together to improve the joint multidisciplinary approach, and contribute in a more active way to joint activities like multidisciplinary tumour boards.
Saturday, March 7, 16:00–17:30, Room Z #ECR2015Z
ESTRO 2 Radiology and radiation oncology: new chances for a partnership
Moderators: P. Poortmans; Nijmegen/NL
L. Bonomo; Rome/IT
» Introduction
L. Bonomo; Rome/IT
» Imaging in oncology: achievements and limitations
V.J. Goh; London/UK
» Interventional radiology in oncology: achievements and limitations
J.I. Bilbao; Pamplona/ES
» Interventional radiology and radiation oncology: working together
D. Verellen; Brussels/BE
» Panel discussion: The future partnership between radiology and radiation oncology