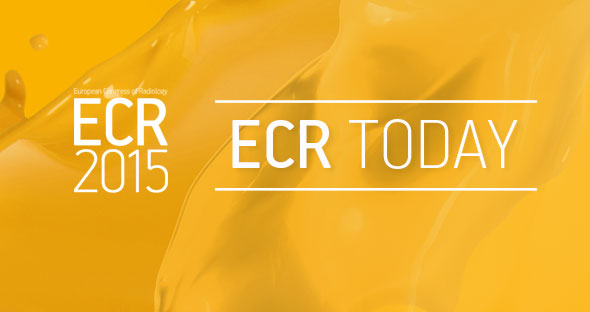 Since the discovery of the x-ray, radiology and radiation oncology have been sister disciplines. Recent progress has brought increasing points of interaction between the two and this is no better exemplified than by the close relationship between the ESR and the European Society for Radiotherapy and Oncology (ESTRO). The two societies will host a joint session at ECR 2015 focusing on this partnership and opportunities for future collaboration. To find out more about the session, ECR Today spoke to session co-chairman and ESTRO president, Prof. Philip Poortmans, of the Radboud University Medical Center, Nijmegen, Netherlands.
ECR Today: How was this joint session between the ESR and ESTRO first initiated?
Philip Poortmans: The time of medical specialties working on their own is over. It is now all about cooperation and multidisciplinarity. Often when we talk about multidisciplinarity, people think only about doctors who are directly involved in treating the patient. In the case of breast cancer, for example, this would then be the surgeon, the radiation oncologist, the medical oncologist and in several countries also the gynaecologist. People often forget about diagnostic specialists like the pathologist and the radiologist. Radiation oncology is very closely linked to imaging in general; both to radiology and to nuclear medicine. So it is a field that is very important for us and a specialty with which it is essential for us to cooperate closely. For many years, ESTRO has run courses with contributions from radiologists and nuclear medicine specialists to teach our young colleagues, or colleagues who want CME, about the contribution of the diagnostic specialties. So this is not new at all. ESTRO and the ESR have an especially close relationship, with the former president of ESTRO, Prof. Vincenzo Valentini, and the ESR president, Prof. Lorenzo Bonomo, working in the same hospital. People in such positions who know each other very well can facilitate this process of close collaboration which then benefits us all. Of course, this means that last year we already had a joint session at the ECR. This collaboration is based on a Memorandum of Understanding signed by both societies, which includes agreements about education, guidelines, and scientific dissemination. A congress is of course always a mixture of both scientific dissemination, bringing new findings to the community, and education, so this nicely fits our mutual commitment.