This is a guest article from MED-EL, the innovation leader in hearing implants.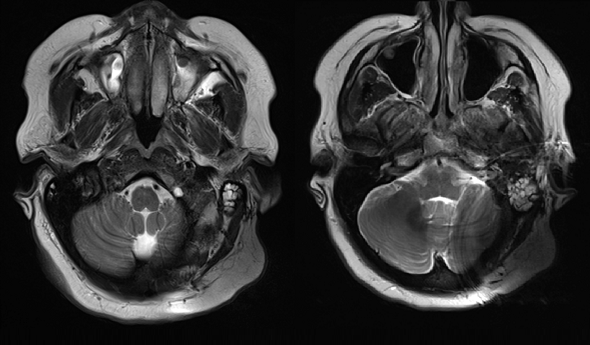 You don't want to have to turn a patient away from an MRI scan. But active medical implants, such as pacemakers or cochlear implants, can make MRI scans challenging.
Many implants are associated with risks during MRI, even if they are "MR Conditional". This can be especially challenging in real-world settings, because "MR Conditional" only means that there are conditions and restrictions, without letting you know how to proceed or how likely it is that your patient will have a safe, comfortable MRI scan.
However, it's important to understand that not all implants are created equal—especially when it comes to MRI safety.
Today, we're going to take an in-depth look at why a design issue causes complications with certain cochlear implants. Then we'll look at why magnet technology makes all the difference with a whole range of hearing implants designed specifically for MRI safety.
Implant Magnets
With implants like pacemakers, deep brain stimulators or spinal cord stimulators, one of the main risks is tissue damage caused by heating of the long electrode leads. Thankfully, cochlear implants use much shorter electrode leads, so this risk is greatly reduced. For example, with certain implants, a 1.5 Tesla head scan in Normal Operating Mode (head SAR 3.2 W/kg) is possible without heating issues.
On the other hand, there are complications that are frequently reported with certain cochlear implants. This is because every cochlear implant has an internal implant magnet. This magnet is designed to hold the signal coil of the external audio processor.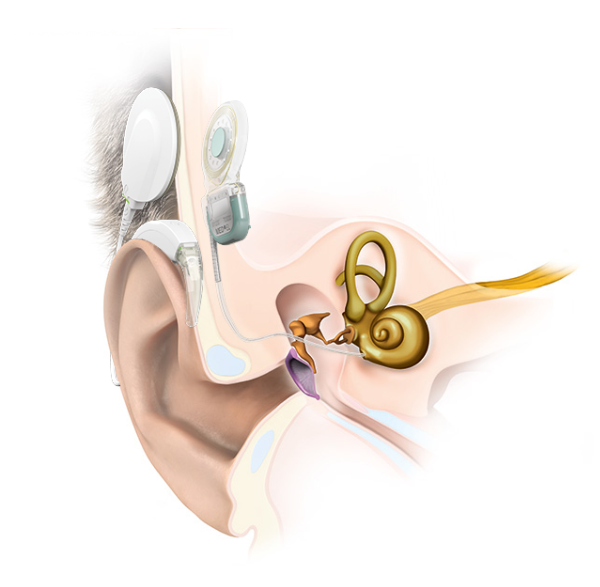 A cochlear implant system is the combination of a removable external audio processor and an internal implant.
It is important to understand there are two very different design philosophies with cochlear implant magnets. This difference in design makes all the difference when it comes to MRI safety and reliability. Let's look at why a secure implant magnet is so essential.
Non-Secure Magnet Design
With a basic axial implant magnet, the main magnetic field of an MRI scanner is perpendicular to the orientation of the axial magnet. As the patient enters the scanner, the powerful magnetic force of the scanner will attempt to force the implant magnet into alignment.
Many cochlear implant manufacturers use an open "soft silicone pocket" design, which uses a thin lip of silicone to hold a simple axial magnet in place.
With a soft silicone pocket design, there is minimal resistance to this powerful magnetic force, so the implant magnet can easily dislocate. A partially or fully dislocated implant magnet can cause extremely painful concentrated pressure. This often leads to incomplete scans and revision surgery to replace the magnet. 1,2,3,4,5,6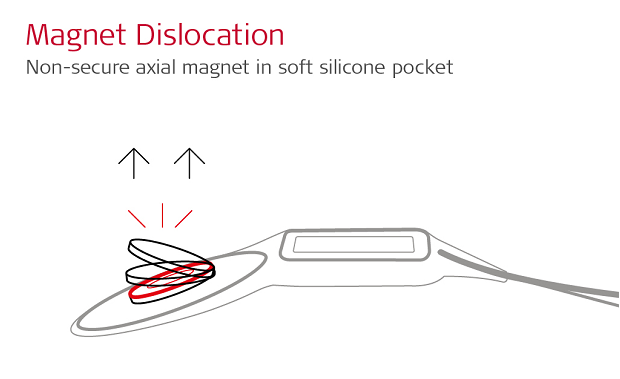 This is why magnet dislocation is the primary risk with cochlear implants. In an attempt to reduce the risk of magnet dislocation, companies with soft silicone pocket designs require a tight head bandage combined with a special rigid splint kit.
The problem is that this tight head bandage does not eliminate the cause or the risk of magnet dislocation. Instead, this can put a painful pressure on the skin between partially dislocated implant magnet and the rigid splint. And the implant magnet can still dislocate and lead to revision surgery. 1,2,3,4,5,6
This adverse event isn't a rare occurrence. In recent literature, up to 100% of 1.5 Tesla scans on patients with soft silicone pocket designs lead complications, including pain, incomplete scans, and revision surgery after magnet dislocation.1,2,3,4,5,6,7
These manufacturers often claim that the magnet can be easily removed prior to MRI with a simple surgical procedure. However, this can delay treatment and be a significant logistical burden on both patients and clinicals. And because the pocket is only thin silicone, it can be damaged by the magnet removal & replacement surgery. This major complication would necessitate that the entire implant be replaced.4,6
Clearly, this is not the best outcome for your patients. So how can we avoid these complications for you and your patients?
Secure Implant Magnets
If the implant magnet is securely embedded inside of the implant, magnet dislocation is essentially impossible, so the risk for pain or other complications is minimized.2,4,6,8 This is why MED-EL has always used securely imbedded implant magnets in our hearing implants.
In fact, there has never been a reported instance magnet dislocation with a MED-EL hearing implant over the past 25+ years.
We know how essential MRI safety is for both patients and clinicians. All current MED-EL hearing implants are designed to reliably enable 1.5 Tesla MRI scans without need for surgery or risk of magnet dislocation.
That's what makes MED-EL the easyMRI hearing implant company. With magnet technology made for easyMRI, you patients can have access to MRI with no surgery, no discomfort, and no hearing downtime.
You can find the full conditions for all our hearing implants at medel.com/important-safety-information.

Want to see how easy the conditions are for MED-EL hearing implants?
Check out our step-by-step video guides for radiologists.
SYNCHRONY Cochlear Implant
Five years ago, MED-EL introduced a cochlear implant that enabled an unparalleled level of MRI safety—the SYNCHRONY Cochlear Implant. SYNCHRONY has a unique rotatable, self-aligning implant magnet that delivers the highest level of MRI safety available with a cochlear implant.
In fact, the design of SYNCHRONY is so effective, patients can have 1.5 or 3.0 Tesla MRI scan without any head bandage or splint kit.7,9
And in the rare case that you need clearer imaging of the brain tissue directly adjacent to the implant, the SYNCHRONY magnet has a secure titanium housing that can be optionally removed to minimize image artifacts on ipsilateral brain scans. The robust design allows this to be performed without damaging the implant.10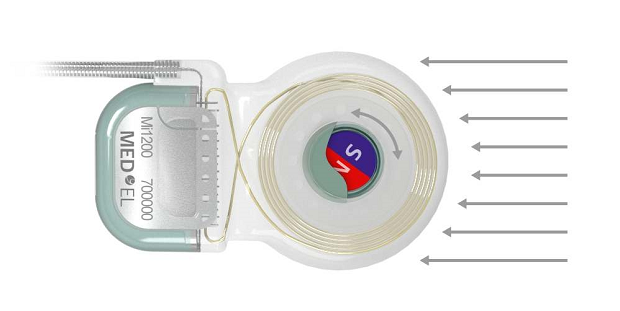 SYNCHRONY's unique rotatable magnet self-aligns to the magnetic field of the MRI scanner. This neutralizes any adverse effects of magnetic torque—enabling comfortable scans. 6,8,9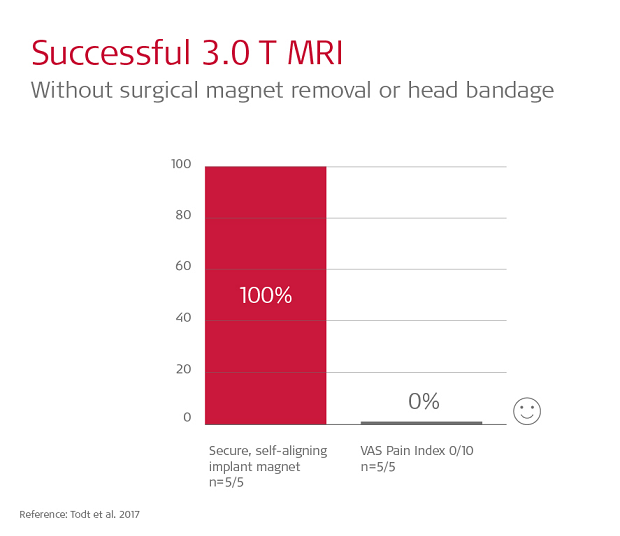 Todt et al. 2017 performed 3.0 Tesla scans of SYNCHRONY patients without any head bandage. All 5 patients reported feeling absolutely no pain or discomfort (0/10 on VAS measures).9
"MRI with the [magnet] in place clearly demonstrated the right jugular foramen and upper cervical spinal schwannomas without distortion . . . Our patient and device have undergone seven MRIs of the head, C spine, and T spine without any issues or demagnetization to the device while still providing quality images."—Brain imaging with SYNCHRONY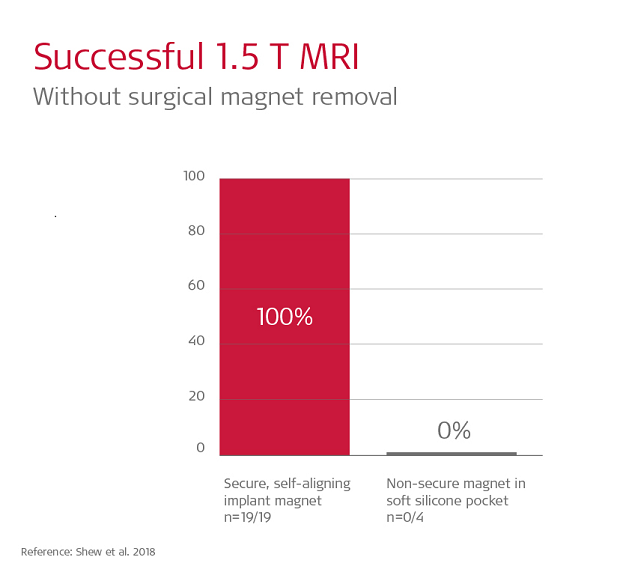 Shew et al. 2018 found 19/19 scans on SYNCHRONY patients were completed without pain or discomfort. In contrast, in that same study, 100% of scans with soft silicone pocket implants experienced pain, and in 3 out of 4 cases magnet dislocation at 1.5 Tesla occurred, and this required surgical intervention to correct the position of the dislocated magnet.6
"In this case, the patient needed a brain scan at 3T to monitor a suspicious area. The patient did not feel anything at all, no pressure or pain . . .nothing uncomfortable or distressing. We definitely would be confident to scan patients with these implants again . . . At the end the patient said she would happily have another one!"—MRI Technologist's first experience with SYNCHRONY
Reliable MRI Safety
Safe, reliable access to MRI is essential for both patients and clinicians. But many cochlear implants aren't truly designed to deliver a pain-free MRI experience for recipients.
That's why MED-EL designed a full portfolio of hearing implants that deliver true MRI safety. When it comes to MRI safety with cochlear implants, the difference in in the design. And with MED-EL, it's a design you can trust.
Ready for the next step? Take a few minutes to check out our step-by-step guides to MRI with MED-EL hearing implants. And you can always find the detailed instructions for MRI scans with every MED-El hearing implant on our important safety information page.
If you have any questions about MRI with MED-EL hearing implants, please contact us, we're here to help.
References
Hassepass, F., Stabenau, V., Arndt, S., Beck, R., Bulla, S., Grauvogel, T., & Aschendorff, A. (2014) Magnet dislocation: an increasing and serious complication following MRI in patients with cochlear implants. Rofo. 186 (7) 680–685
Kim, B.G., Kim, J.W., Park, J.J., Kim, S.H., Kim, H.N., & Choi, J.Y. (2015). Adverse events and discomfort during magnetic resonance imaging in cochlear implant recipients. JAMA Otolaryngol Head Neck Surg. 141(1), 45–52.
Carlson, M.L., Neff, B.A., Link, M.J., Lane, J.I., Watson, R.E., McGee, K.P., Bernstein, M.A., & Driscoll, C.L. (2015) Magnetic resonance imaging with cochlear implant magnet in place: safety and imaging quality. Otol Neurotol. 36(6):965–971.
Young, N.M., Rojas, C., Deng, J., Burrowes, D., & Ryan, M. (2016) Magnetic resonance imaging of cochlear implant recipients. Otol Neurotol. 37(6):665–671.
Gubbels, S., & McMenomey, S. (2006) Safety study of the Cochlear Nucleus 24 device with internal magnet in the 1.5 Tesla magnetic resonance imaging scanner. Laryngoscope. 116(6):865–871.
Shew, M., Wichova, H., Lin, J., Ledbetter, L., & Staecker, H. (2018). Magnetic resonance imaging with cochlear implants and auditory brainstem implants: Are we truly practicing MRI safety? Laryngoscope. 129(2):482-489
Walker, B., Norton, S., Phillips, G., Christianson, E., Horn, D., & Ou, H. (2018) Comparison of MRI in pediatric cochlear implant recipients with and without retained magnet. Int. Journal of Pediatric Otorhinolaryngology. Int J Pediatr Otorhinolaryngol. 109:44-49
Todt, I., Rademacher, G., Grupe, G., Stratmann, A., Ernst, A., Mutze, S., & Mittmann, P. (2018). Cochlear implants and 1.5 T MRI scans: the effect of diametrically bipolar magnets and screw fixation on pain. J Otolaryngol Head Neck Surg. 47: 11.
Todt, I., Tittel, A., Ernst, A., Mittmann, P., & Mutze, S., (2017). Pain free 3T MRI scans in cochlear implantees. Otol Neurotol. 38(10):e401-e404.
Helbig, S., Stoever, T., Burck, I., Kramer, S. (2017) Cranial MRI in a young child with cochlear implants after bilateral magnet removal. Int J Pediatr Otorhinolaryngol. 103:1-4.