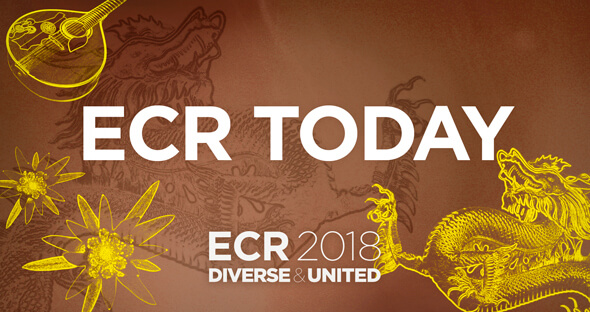 by Prof. Bernd Hamm, ESR President
It is my great pleasure to welcome you to ECR 2018!
The European Congress of Radiology has attendees from all over the world – from over 140 countries and many diverse cultures. It is a multi-professional meeting where international experts can shake hands with students, medical residents exchange ideas with physicists, and radiographers share their perspectives with industry representatives.
I chose 'Diverse & United' as our congress motto this year, as radiology is such a diverse specialty, covering a huge range of medical and scientific topics: from ever more refined diagnostic options to image-guided minimally invasive treatment options. Alongside our diversity, as radiologists and radiographers we should also stay united, which is in the interest of our specialty and our patients. This is what our congress is: something to offer for everyone, regardless of profession, cultural background or specialisation.
Being Congress President in 2015 gave me the unique opportunity for re-evaluation and to implement new things that I feel strongly about as well as fine-tune features that already existed. It was generally important to me to introduce new ideas in order for those of you who've even been coming to Vienna for decades, just like me, to get the chance to experience multiple innovations.
MyT3 is a new session format, adapting the ECR even more to these fast-moving times. 240 daring colleagues will present their scientific thesis in just three minutes! As if this wasn't dramatic enough, we decided to hold these speedy sessions on the Sky High Stage which overlooks the city of Vienna, as only the sky is the limit for this new generation of radiology professionals.
Additionally, we created another new session format, 'Coffee & Talk', which is highly interactive with much more time for discussion than usual and in a relaxed atmosphere, with the possibility to also enjoy a coffee or other hot beverage. The interesting lectures on offer in these sessions call for an exciting exchange, bringing together different statements and opinions as well as Viennese coffee culture.
For the first time, the CUBE will open its doors to you: a theme park for interventional radiology (IR), designed for residents who haven't specialised yet. Challenges, quizzes, training and much more will be focused on IR in emergencies plus other everyday topics, including the aorta, oncology, peripherals, and stroke. Without wanting to give away too much, I recommend paying the Cube a visit during lunchtime for 'the main event': the daily highlight involving experts in the arena, less challenging as well as more challenging interventions and much more. Come and be part of it!
I have given a strong focus on radiographers this year, whose work is crucial for every medical imaging facility. In order to underline how welcome they are at the ECR, we introduced the new Shape Your Skills Programme for radiographers at the beginning of their career who were selected based on the quality of their abstract submission. They were awarded free admission to the congress and hotel accommodation too. Additionally, there is a Radiographers' Evening on Friday night for the first time. Don't miss it!
Our congress is well known as a particularly modern and innovative meeting with a keen eye toward the future, and therefore perfectly reflects developments in our discipline. Radiology is amongst the top drivers of innovation in medicine, so I can definitely predict a bright future. Radiology, as a specialty, is constantly growing and renewing itself and is also doing this much faster than other specialties.
A few words on artificial intelligence (AI) and machine learning: I am convinced that it is not a threat but a tool that we can use to support our work and to improve results. The radiologist's job has constantly changed in the past and will continue to do so in the future. For one thing, the amount of data we are dealing with is ever increasing. AI will help us to cope with this workload and make optimal use of the data in our daily routine. This, in turn, leaves us with more time for patient care and communication with clinical colleagues, thus making radiology more visible to others.
The best approach to predicting the future would be to go back ten years and have a look at what we were doing back then and where we are now. Almost everything we are using now was already there, sometimes in just a rudimentary form, and by far not everyone was convinced of those approaches back then, but many of them are now generally accepted. It is not much different today, we are looking at possible solutions, which we develop and discuss and then discard or improve upon but some of these will indeed go on to define our daily work ten years from now.
At a time like this I think it is important to look beyond borders and focus more than ever on the ESR being a community of and for radiologists, radiographers and colleagues from related disciplines. Considering the U.K. vote to leave the EU, we have to admit that this certainly affects Europe and the European community. This is unfortunate but the ESR and the scientific community are beyond politics, and we will further strengthen and develop international cooperation and relationships. Brexit poses no threat to the ESR but an opportunity to prove that science does not know borders. Since the founding of the ESR and through its various activities, we have built a solid foundation upon which European radiologists can cooperate and communicate and so our motto could be "Keep calm and carry on".
Last but not least, on a less professional note, we all have to eat and it was important for me to broaden the choices for all of us by introducing the ECR Food Village. Street Food is 'the in thing' in Berlin right now for people who want to enjoy some fresh air, stretch their legs and grab a bite. So throughout as well as just outside the conference centre, you can indulge in the cuisine of our ESR Meets countries (China, Portugal, Switzerland) or also try a typical Berliner Currywurst.
I invite all of you to look around, experience and re-discover the ECR, the new as well as the familiar features, as diverse and united as we are!