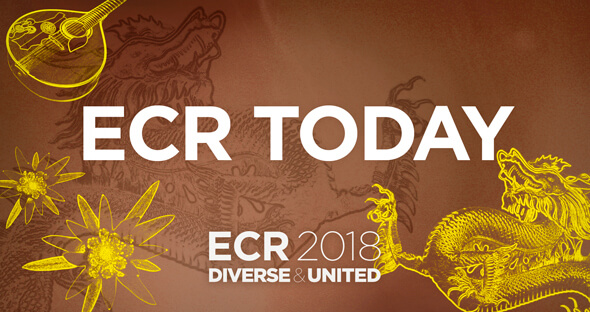 by Prof. Bernd Hamm, ESR President
It is my great pleasure to welcome you to ECR 2018!
The European Congress of Radiology has attendees from all over the world – from over 140 countries and many diverse cultures. It is a multi-professional meeting where international experts can shake hands with students, medical residents exchange ideas with physicists, and radiographers share their perspectives with industry representatives.
I chose 'Diverse & United' as our congress motto this year, as radiology is such a diverse specialty, covering a huge range of medical and scientific topics: from ever more refined diagnostic options to image-guided minimally invasive treatment options. Alongside our diversity, as radiologists and radiographers we should also stay united, which is in the interest of our specialty and our patients. This is what our congress is: something to offer for everyone, regardless of profession, cultural background or specialisation.
Being Congress President in 2015 gave me the unique opportunity for re-evaluation and to implement new things that I feel strongly about as well as fine-tune features that already existed. It was generally important to me to introduce new ideas in order for those of you who've even been coming to Vienna for decades, just like me, to get the chance to experience multiple innovations.
MyT3 is a new session format, adapting the ECR even more to these fast-moving times. 240 daring colleagues will present their scientific thesis in just three minutes! As if this wasn't dramatic enough, we decided to hold these speedy sessions on the Sky High Stage which overlooks the city of Vienna, as only the sky is the limit for this new generation of radiology professionals.
Additionally, we created another new session format, 'Coffee & Talk', which is highly interactive with much more time for discussion than usual and in a relaxed atmosphere, with the possibility to also enjoy a coffee or other hot beverage. The interesting lectures on offer in these sessions call for an exciting exchange, bringing together different statements and opinions as well as Viennese coffee culture.
For the first time, the CUBE will open its doors to you: a theme park for interventional radiology (IR), designed for residents who haven't specialised yet. Challenges, quizzes, training and much more will be focused on IR in emergencies plus other everyday topics, including the aorta, oncology, peripherals, and stroke. Without wanting to give away too much, I recommend paying the Cube a visit during lunchtime for 'the main event': the daily highlight involving experts in the arena, less challenging as well as more challenging interventions and much more. Come and be part of it!