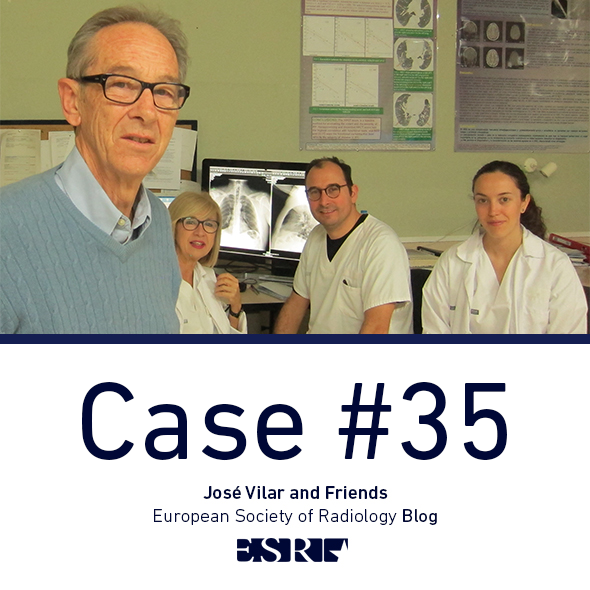 Hello Friends.
This patient is 42 years old without significant respiratory symptoms.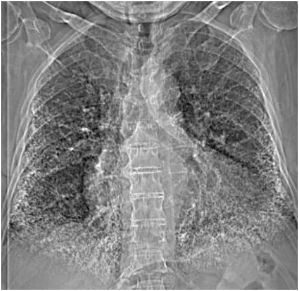 Hello Friends here is some help.
Here is a CT image. Diagnosis?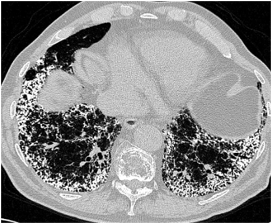 Click here for the answer

Hello Friends.

Congratulations to some of you who got the case correctly.

Let's review it:

The original image shows innumerable calcific densities in both lower lung fields.

I added another image: A CT that confirms the presence of multiple calcifications in both lower lobes. The calcifications are millimetric and seem to spare the pleura. These are typical findings of Alveolar Microlithiasis.

The principal characteristics of Alveolar Microlithiasis are:

Calcific concretions in the alveoli
Familial disease
Poor prognosis that may end up in lung transplantation
More frequent in women
Appears in the second decade of life
It is more common in Turkey.

The most important imaging findings are:

Chest XR

:

"Snow storm" pattern: white lungs.
Dark pleural line: ( Arrow)

CT:

Ground glass, generally diffuse.
Multiple small calcifications in alveoli.
Subpleural cysts ( Responsible for the black pleural line in CXR)
Pulmonary fibrosis
Pleural calcifications.

MRI:

High signal intensity in T1.

NM:

Uptake of Gd 99m diphosphonate.

Differential diagnosis: The presence of multiple, diffuse calcifications in the lungs raises some other diagnostic possibilities:

Metastatic calcifications (due to altered levels of calcium) ( Renal insufficiency, Hyperparathyroidism)

Healed Varicella Pneumonia (Fewer calcifications, asymptomatic)

Silicosis. (Usually presents with additional findings such as adenopathy in this case).

Pulmonary ossification in chronic mitral disease (Chronic pulmonary venous hypertension).

In most of these cases the clinical information will clearly help in the diagnosis.

One last question: Why is it so difficult to see these calcifications in the chest radiograph?

Answer: Because we use high kvP in regular CXR . A low KvP ( such as the one we use to detect rib lesions) would enhance calcium due to photoelectric effect as you can see in this case (Pleural plaque).