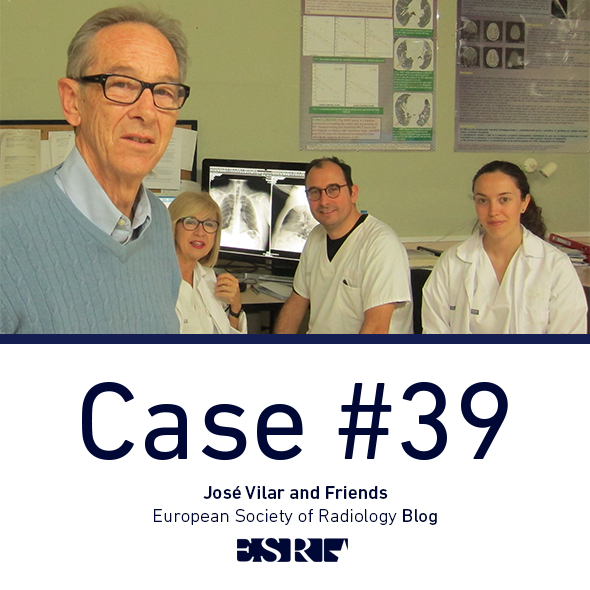 Hello everybody,
welcome to the new year 2021! We all wish you a much better year, especially regarding the terrible pandemia and its consequences.
Here is a case from 2018 ( Dr. Edgar Lorente, Hospital Universitario Dr. Peset. Valencia) that I was reviewing recently. Let's see what you think.
This is a 45-year-old male with long standing treatment for ankylosing spondylitis. I am showing you previous images from 2014 and the actual radiographs in 2018.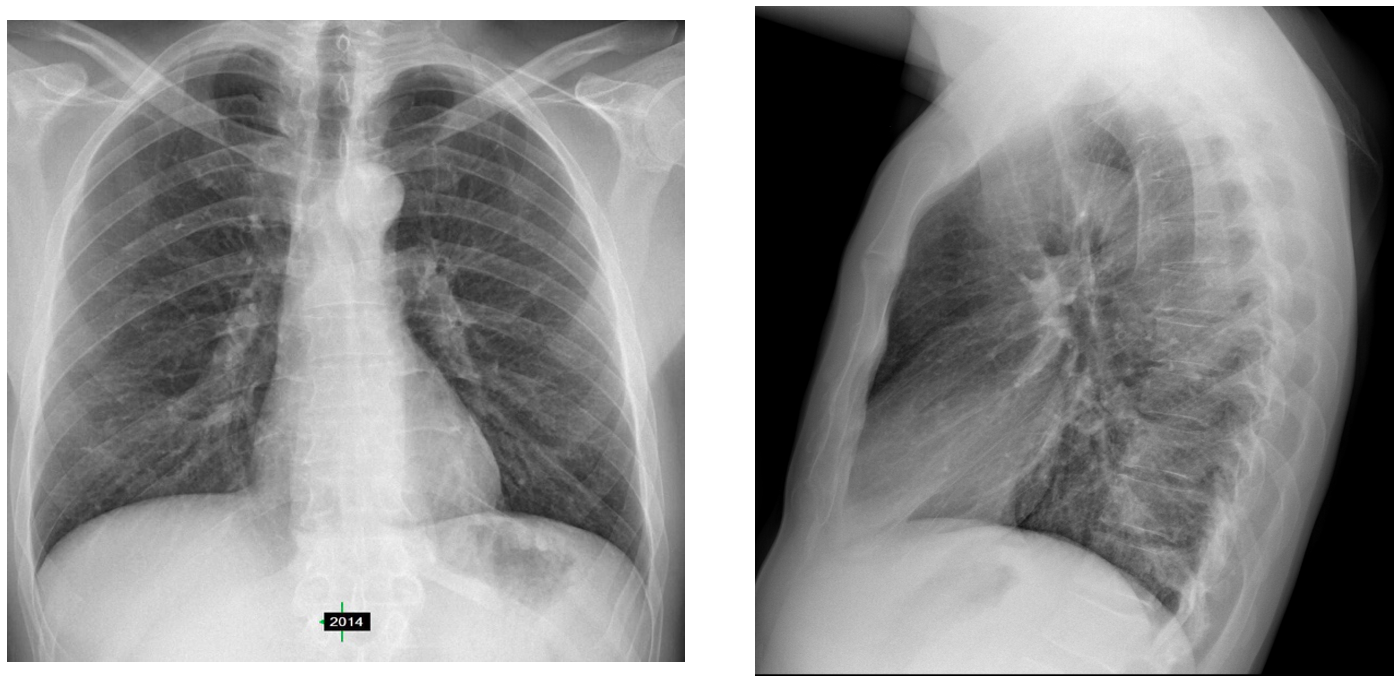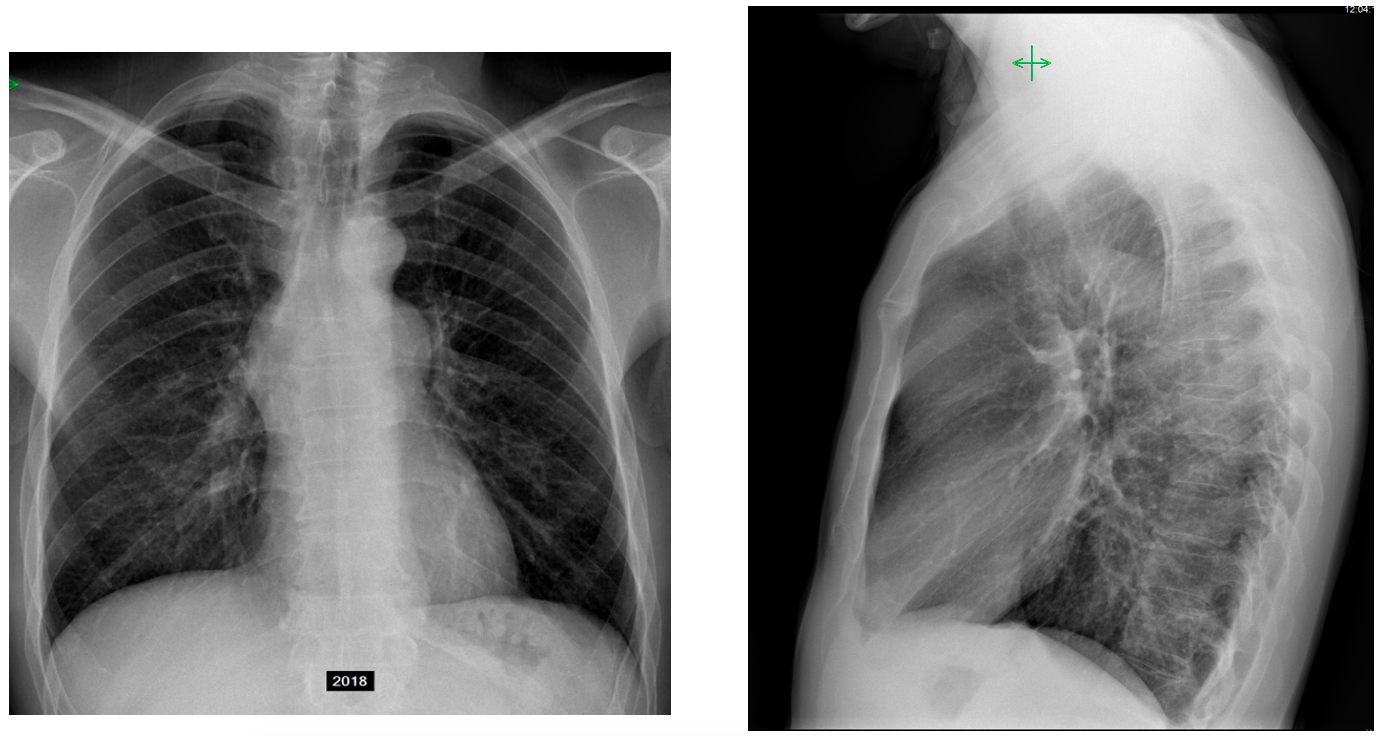 Where are the main findings and what is the probable diagnosis at this moment? Do you think that the lateral radiograph helps?
Click here for the answer

Hello everyone!

I must say that some of you were quite quick locating the findings and identifying the case as an anterior mediastinal mass.

The main differential diagnosis is:

Thymoma/Thymic carcinoma/Neuroendocrine tumours
Teratoma
Lymphoma.
Thyroid should not be considered, especially since the trachea is not displaced.

You did well. Congratulations! This 2021 is looking good…

Let's look at the findings.

The radiographs from 2014 are normal and are excellent for comparing and seeing the main findings: In the PA you can see two convexities (arrows) indicating the presence of a mass in the mediastinum. The lateral projection is the clue: the lesion is very well seen in the anterior clear space behind the sternum, therefore the lesion is in the anterior mediastinum.
Chest radiographs are quite good for detecting anterior mediastinal tumours and other space occupying lesions, especially the lateral projection as you can see in our case.

Once we find a possible tumour in the mediastinum, the next step is to see what it is. CT is the principal tool for this matter, although MRI could also be an alternative.

Contrast CT, coronal and sagittal projections showed a solid mediastinal tumour, well defined, with some hypodense areas of probable necrosis.

The biopsy of this lesion revealed that it was a Carcinoid (Neuroendocrine tumour). Staging was performed with PET/CT and SPECT/CT with somatostatin receptor.
In PET/CT metastases in both adrenals and the lung were detected.

Additional characterization of the tumour was made possible using somatostatin receptor SPECT/CT.

No specific relation could be established with the ankylosing spondylitis.

Points to remember:

Anterior mediastinal masses are easily detected in lateral chest radiographs: look at the anterior clear space.

CT with contrast is the recommended technique to characterize mediastinal tumours. MRI is an alternative

Most anterior mediastinal tumours originate in the thymus, being Thymoma the most frequent one, but others, such as Lymphoma, Germ cell tumours, Thymic carcinoma and Neuroendocrine tumours also originate in the thymus.

Addendum: If you remember our CASE 24, you will see another Thymic neuroendocrine tumour and another good example of the value of the lateral chest radiograph.