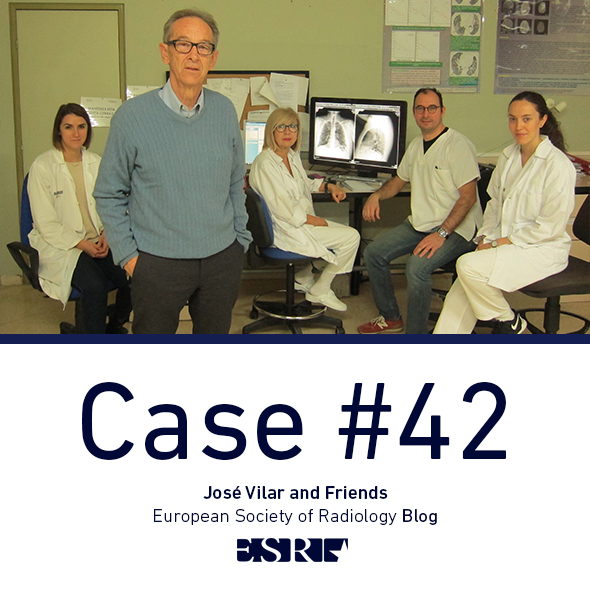 Dear friends,
We embark today in a case less focused in finding a radiologic sign and more in a clinical context, but, of course from the imaging point of view.
This case provided to me by Dr Ruben Ruiz, a senior resident and Dr Santiago Isarría already known in this blog, both from Hospital Universitario Dr. Peset in Valencia. Spain.
This is a 52-year-old woman with Lupus erythematosus and a history of cervical cancer treated with radiation therapy.
The lady complains of right chest pain at deep inspiration.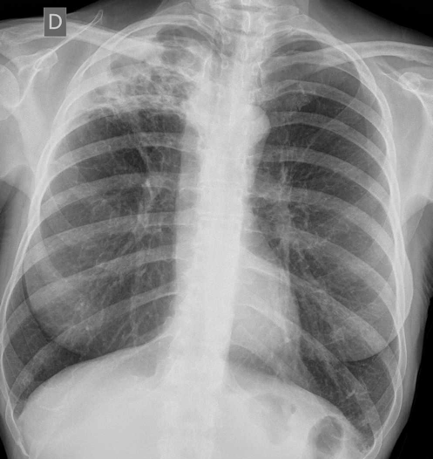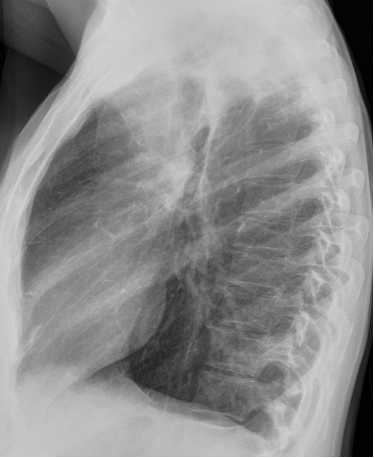 What do you think? Please give me a differential diagnosis and I will provide you later with additional images.

Update: Additional Images
Here are some CT images. Although tuberculosis was suspected this was discarded after a thorough investigation.


Click here for the answer

This case was very well read by some of you, especially Anasthasia who did mention the diagnosis and the differential, and also Marcos. Well done.
Let us see what where the findings:

We have a study withy PA and Lateral projections showing an opacification of the right upper lobe with some loos of volume since the right hilum is elevated. The findings are better understood by looking at the radiograph obtained seven months before where there is no pathology in the right upper lobe and the hilum is in the normal situation.

The findings should make us think about an infectious pathology, being tuberculosis the first choice as Marcos indicated.

A CT was obtained and the findings confirm the presence of a right upper lobe consolidation with multiple areas of cavitation, air bronchograms and a larger cavity containing a hypodense nodular image. (Arrow). This lesion is not gravity dependent (remember that CT is supine).

Once Tuberculosis was discarded the other most probable diagnosis was Semi invasive Aspergillosis.

This entity develops in patients with a mild immunosuppression such as diabetes, chronic steroid therapy, alcoholism..
The main features of semi invasive aspergillosis are related to the presence of necrosis (it is also called chronic necrotizing aspergillosis). Necrosis forms cavities and nodular hypodense areas such as the nodule in this case. This is not to be confused with an aspergilloma floating in a cavity that should have a higher density and be gravity.
dependent. Other findings may be thickening of the bronchial walls and pleura
The diagnosis (serological or sputum) can be obtained detecting with fungus cultures, with the galactomannan antigen (GA) , or by means of molecular biology (PCR rt). The bronchial aspiration material of our case revealed a positive GA ( <0,5) confirming the diagnosis of aspergillosis. Additionally, another opportunistic agent; candida albicans was also detected.

Points to remember:

Aspergillosis occurs in patients with severe immunosuppression but also in other with mild immunosuppression.
Radiological signs of semi-invasive aspergillosis may be easily confused with tuberculosis
Again, remember the role of the chest radiograph and the value of previous images.