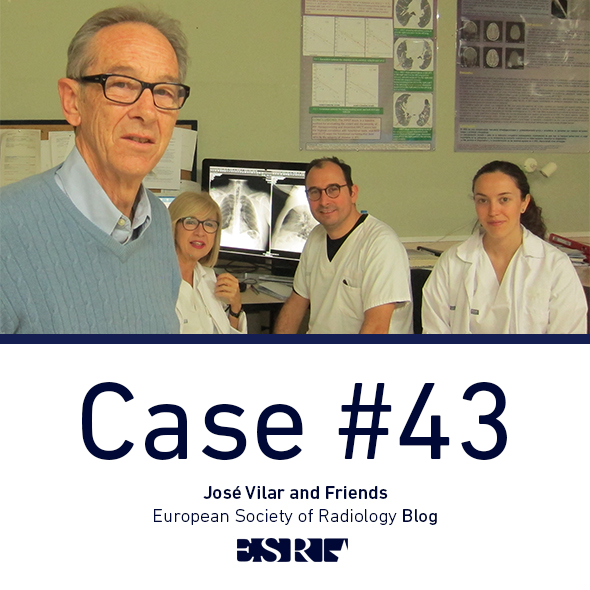 Dear Friends, let me challenge you with two cases of the same disease.
Case A: this is a case also brought to me by Drs Isarría and. Dr. Ruiz from Hospital Universitario Dr. Peset. Valencia.
73-year-old male with cutaneous lesions.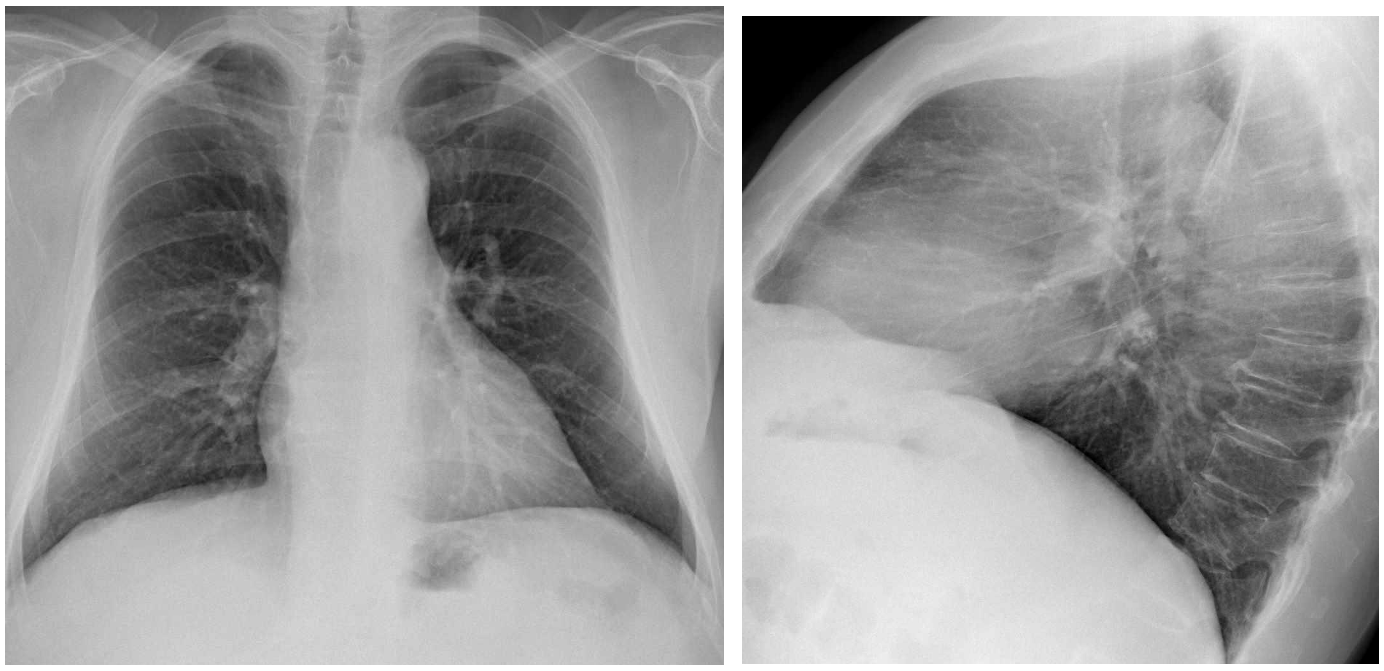 Case B: This is a case from my files: a 50-year-old man with neurological symptoms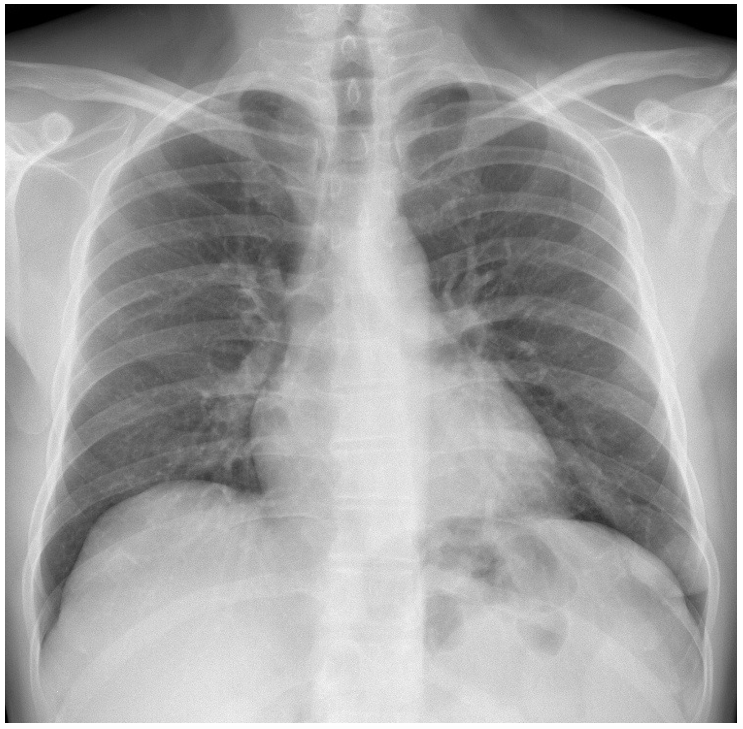 My questions about these two cases are:
Where is the pathology in case A and case B?
What is your diagnosis?
Additional information:
Well, friends, you are very good and some of your comments fit perfectly this case.
Regarding case B, let me add an image to see if you can explain the findings.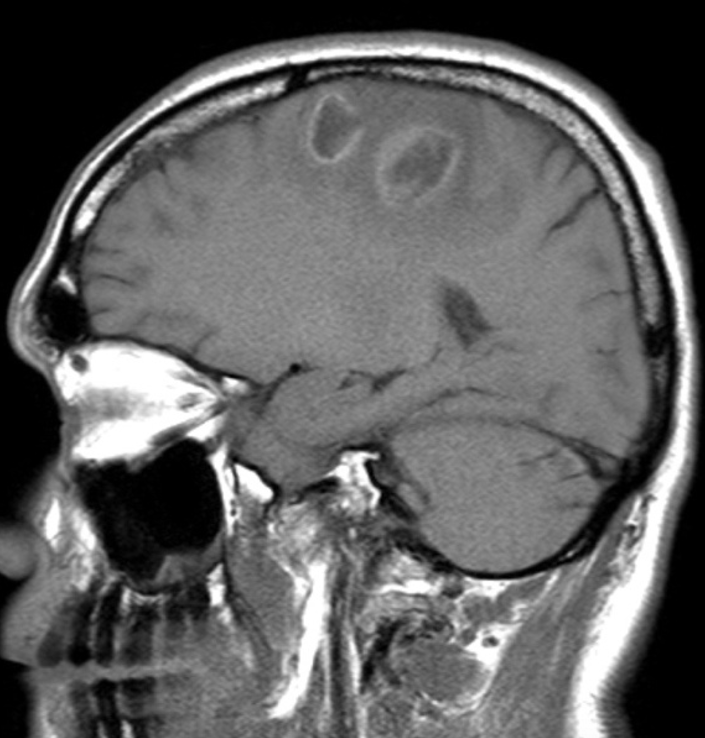 Click here for the answer


Well, this case was followed by many people and, what is more important, was diagnosed by most of you very precisely, and by a few very quickly. I am proud of you.

Let me run through the images and the findings.

CASE A:

A tubular structure is seen in the left lung (arrow) and also identified in the lateral projection in the anterior clear space (arrow). This suggests that the lesion is a vessel. The differential diagnosis could be between an abnormal meandering vein (abnormal tortuous vein draining into the left atrium), or an arterio-venous malformation,

The CT shows the lesion with a vessel like morphology. The contrast images and MIP show that this long vessel has an arterio-venous trajectory and a central nidus, indicating that it is an arteriovenous malformation (AVM).

CASE A:

In this case another tubular lesion pointing towards the hilum is seen in the left costophrenic region.

The contrast CT shows that the Vascular structure has a peripheral nidus, an artery and a vein, better seen in the 3D reconstruction (Small arrows): This is another Arterio-venous malformation, but this patient had more findings related to his neurological symptoms.

Brain MRI (Sagittal contrast T1 weighted sequences) show hypointense rim enhancing lesions consistent with abscesses.

DIAGNOSIS: Both cases are examples of arteriovenous malformations in the lungs. The first one (Case A) is a case of Rendu-Osler-Weber syndrome also called hereditary hemorrhagic telangiectasia. This patient indeed had telangiectasias, and recurrent epistaxis. Along with the AV malformation these are criteria of Rendu-Osler-Weber syndrome.

This is a rare inherited disorder characterized by abnormal vessels in the skin, mucous membranes, and organs such as the lungs, liver, and central nervous system. The main criteria for the diagnosis of this entity are:

Telangiectasias
Family history
Repeated epistaxis
Arterio-venous malformations

This was the case in Case A.
In Case B, the AVM was isolated and not clearly related to other criteria of Rendu-Osler-Weber syndrome.

Regarding pulmonary AVM:

The main radiologic findings described in the lungs are seen in our two cases. A vessel like structure in the lung, with a feeding artery and a draining vein identified in contrast CT.
Arterio- venous malformations may be solitary or multiple. The chances that the patient has a Rendu-Osler-Weber syndrome are higher when the lesions are multiple.
Pulmonary Arterio-venous malformations may complicate with haemotysis or shunting problems such as paradoxical emboli, as in case B, due to the fact that there is a left to right shunt.
In symptomatic cases the AVM can be resected or preferably embolized as we did in this case (B).

After permanent occlusion via embolization of the AVM the Amplatzer device is seen in the left lower lobe. (Arrow)

Points to remember:

If you see tubular structures in the lung in a chest radiograph, think of AVM or other vascular malformations, and proceed to a contrast CT.
Contrast CT will easily reveal if this is an AVM showing a feeding artery, a draining vein and the connecting nidus. Remember to look carefully for additional AVMs in cases of Rendu-Osler-Weber syndrome.
Brain complications may occur in left to right shunts (paradoxical embolism), especially at the foramen ovale, but also in pulmonary AVM.