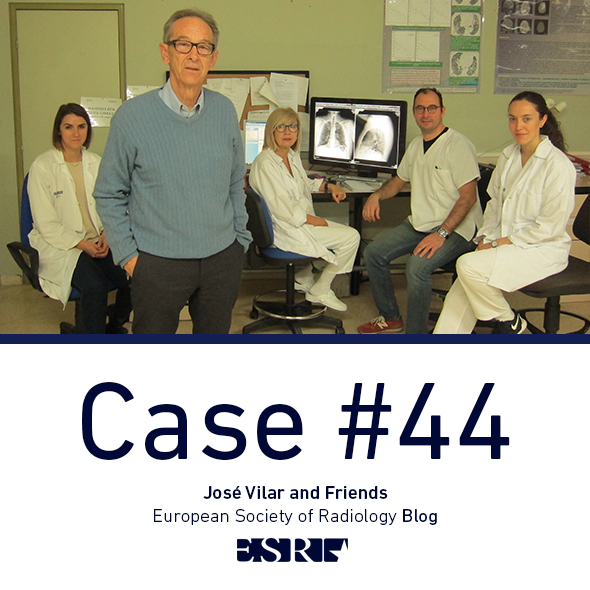 Hello everybody!
Let me show you a case from my file- A case that may teach something about chest radiography.
This is a 30-year-old woman, radiology technician, with a recent pneumothorax. ( "rule out pneumothorax ").
How would you read this image?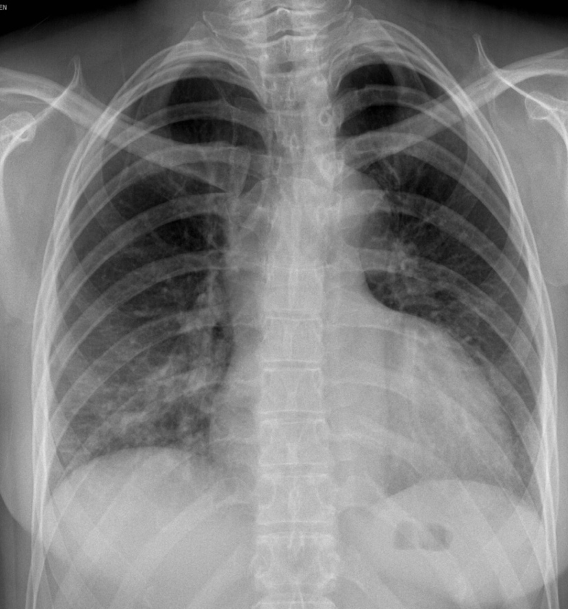 Additional information:
Here is a radiograph obtained 5 minutes after the first one.
Can you explain what happened?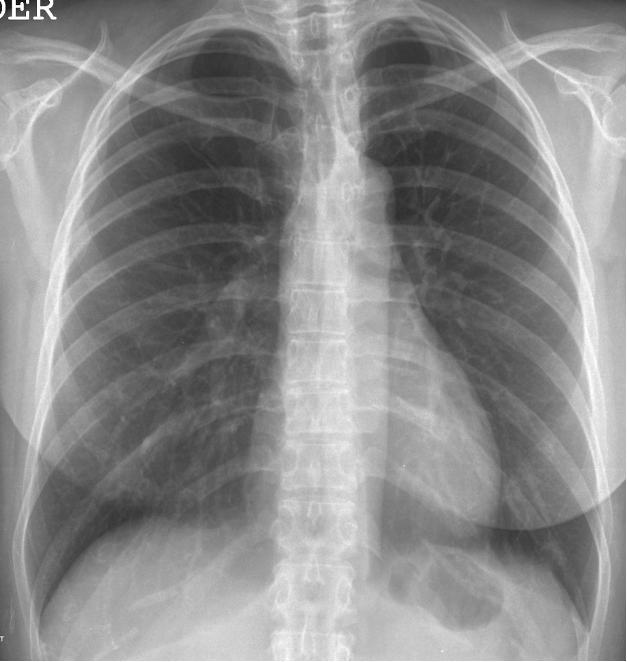 The explanation of this peculiar case next week…
Click here for the answer

This case is a bit tricky, but reflects something that may happen in real life. Indeed it happened to me when I was confronted with this chest radiograph of one of our technicians.
My first impression was that it was a different patient. When I was assured that it was really her, and knowing that she had a history of pneumothorax. In fact this was a case of catanemial pneumothorax (recurrent episodes of pneumothorax coinciding with menstruation ). I asked if this radiograph had been obtained with forced expiration. Yes, this was an expiratory radiograph, and this is the clue as was very well indicated by Dr.Doukopoulou (congratulations Anastasia for this!).

This PA chest radiograph shows an enlarged and deformed cardiac silhouette, linear markings and increased density in the lower lung fields.

All the apparent pathological signs disappeared in the PA radiograph in full inspiration obtained immediately.

Diagnosis: False cardiac and pulmonary pathology due to forced expiration

Why do I show this case? For several reasons:

Chest radiographs should be obtained in deep inspiration except when we want to reveal air trapping in cases such as foreign body aspiration(in a child especially) or to detect tension pneumothorax. It was once used to assess the size of a pneumothorax the rationale being that an expiratory radiograph would better identify and measure the amount of pleural air, but several authors have demonstrated the low value of this technique as compared to the regular inspiratory chest radiograph, or Ultrasound.
Very often, chest radiographs are not obtained in full inspiration and, as in this case, the heart may appear larger and the lung vessels loose definition. This occurs frequently in portable AP radiographs.
Also, in CT, respiratory maneuvers are also used for different reasons, namely to detect air trapping and to detect tracheo-bronchial abnormalities.
In both, radiographs and CT, respiratory maneuvers may alter the pulmonary structures. The changes in the interstitial pressure versus alveolar pressure in the lung modify the size of the vessels and other pulmonary structures, including pathology.
This is important as shown in this example from Alexander Bankier and colleagues in which a pulmonary nodule changes in size and morphology between inspiration and expiration (See how the posterior tracheal wall is flat in expiration)

Points to remember:

Forced expiration may alter significantly the cardiac shape and size and the lungs in a chest radiograph, and is a cause of diagnostic errors.
Expiratory images may be useful to detect air trapping in the lungs, but not in evaluating pneumothorax.
If expiratory images are obtained the technician should always indicate it in the images.