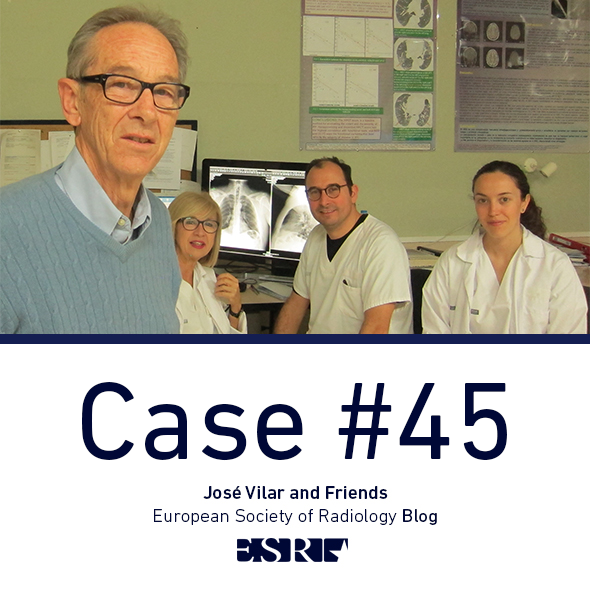 Hello everybody.
I'm back after a short Easter holiday recess. Now, let's get back to a new case provided to me by Dr Juan Malo Ascaso, a young radiology resident, at Hospital Universitario Dr. Peset.
This is a 24 year old woman from Central America who presented with fever, cough and dyspnea.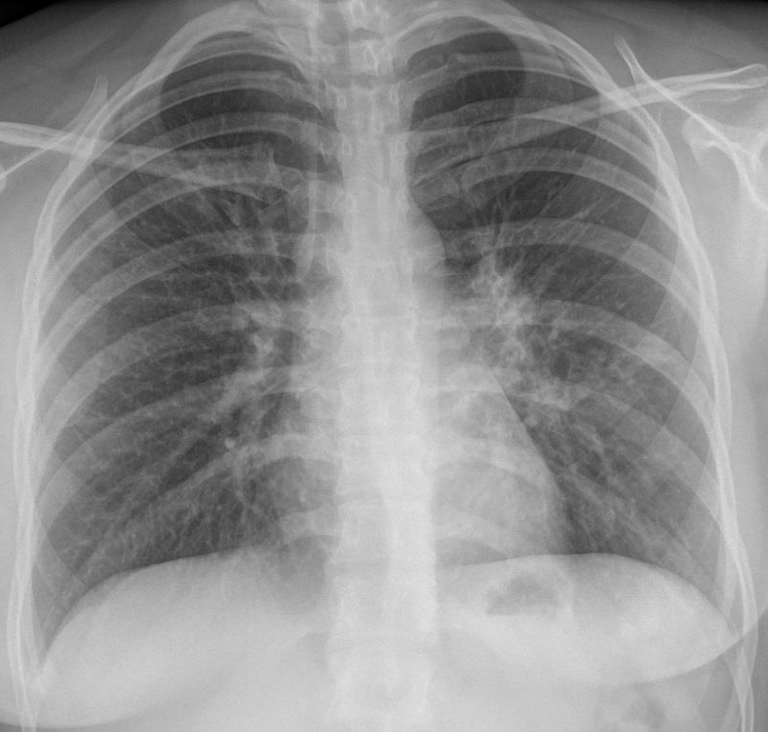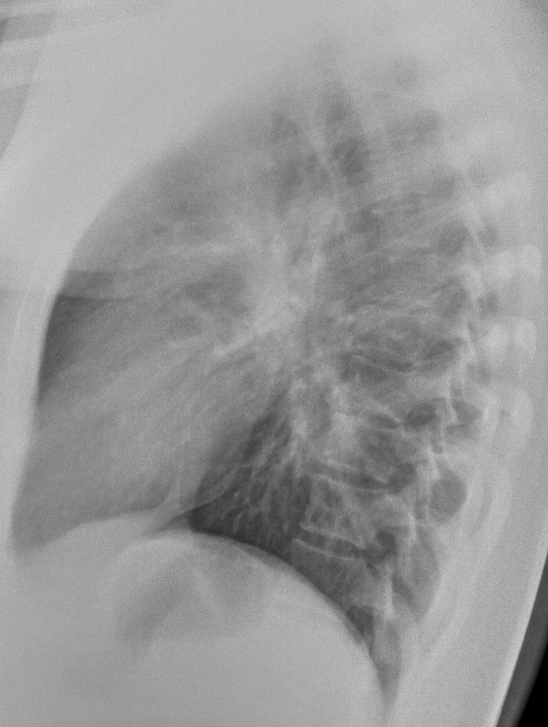 I will post additional images of the follow up soon, but let me see what you think…

Important additional information:
As I indicated in the initial presentation of this case, I am sending some information about this case that offers a new scenario of what happened to this young lady.
First let me tell you that she, indeed, as some of you indicated, had pulmonary pathology. The sputum revealed that she had Tuberculosis, a pathology that was prevalent in her country of origin, as it is in many other regions of the world, including the more developed countries.
She was treated and became soon asymptomatic. Two months, at a follow-up radiographic examination, shown here, the initial pulmonary findings had cleared.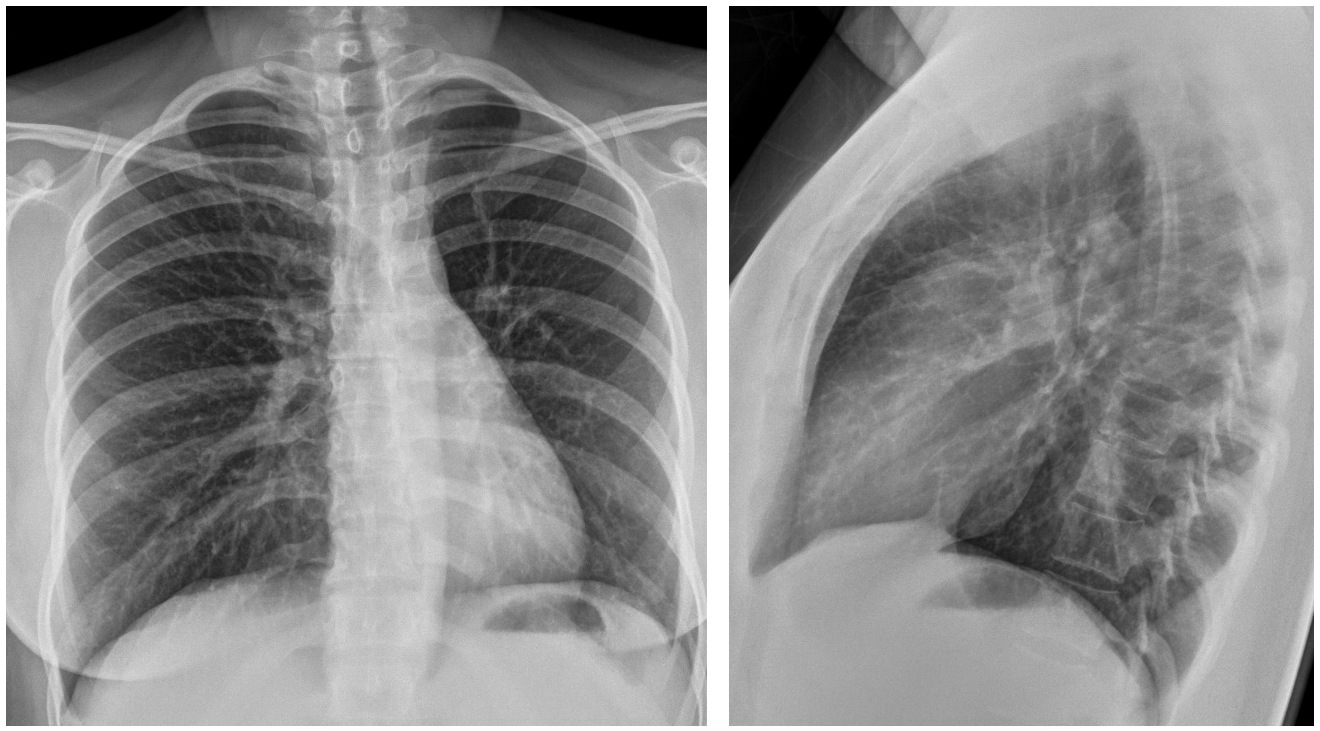 And now comes the new situation:
Four months later she came to the Emergency room with important dyspnoea and no other symptoms. The AP portable radiograph is shown: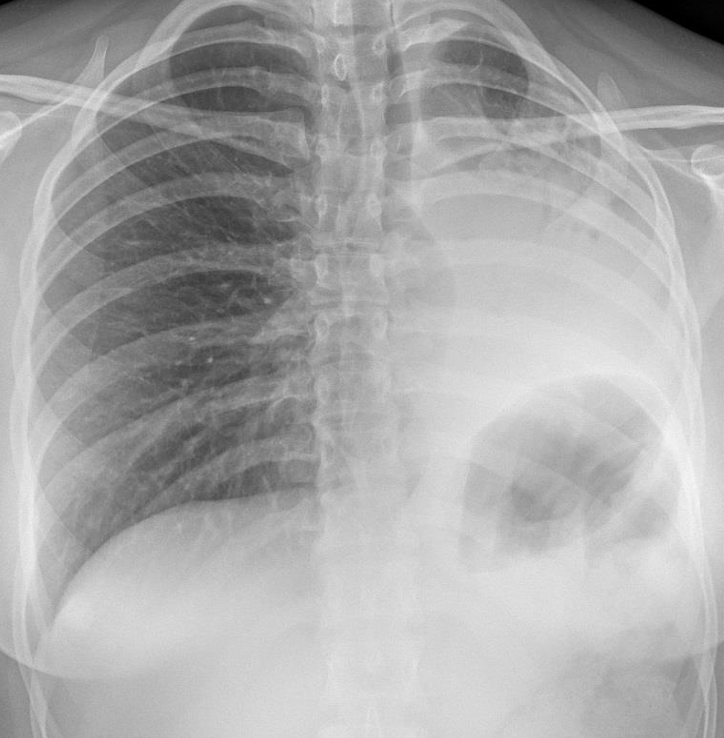 Can you explain these findings?
Click here for the answer

This is a case that I intended to present, more or less, as it occurred in real life. The initial diagnosis (tuberculosis) was made after ruling out other possibilities, especially pneumonia in the first instance.
As I expected, some of you, were right in the spot with the final diagnosis.

Let´s review the images.

A poorly defined pulmonary consolidation appears in the left lower lobe: superior segment seen behind the hear (white arrow). Scattered densities in the left lung (yellow arrows).

After treatment, the radiographs show the disappearance of the pulmonary pathology. The only, very subtle sign, is the low position of the left hilum (Blue arrow) that indicates the possibility of left lower lobe atelectasis.

The last image shows dramatic changes with loss of volume of the left lung, displaced mediastinum and elevated left hemi-diaphragm.

At CT a very narrow left main bronchus with totally obstructed left lower lobe bronchus and left lower lobe collapse were seen.

Bronchoscopy revealed severe inflammation of the left main bronchial wall with extreme narrowing.

Diagnosis:

The diagnosis was indicated by two participants: Drs Kanakaraj and Doukopoulou, and in the exact words of Dr Kanakaraj: " Endobronchial tuberculosis with left bronchial stenosis resulting in collapse of the left lung with loss of volume, ipsilateral mediastinal shift, elevated left dome and compensatory hyperinflation of right lung. ".
Well done!

Endobronchial tuberculosis is a complication of this disease, that should be taken in consideration, when we see signs of bronchial obstruction. The incidence of trachea-bronchial tuberculosis is between 10 and 40%, and may lead to permanent occlusion of the bronchus.
Balloon dilatation can be used to treat the stenosis, but there is a tendency to recurrence of almost 90%. Surgery is an alternative but has a high risk. Stent placement can also be done after balloon dilatation, but again it may recur or dislocate, and replacement of the stent may lead to severe damage to the bronchus. Two other techniques to treat stenosis due to bronchial tuberculosis use Heat (Argon Laser) and more recently Cryotherapy withy liquid nitrogen that produces less damage in the bronchial wall structure that Argon Laser. These thermal techniques have a lower recurrence rate (17%) compared to balloon dilatation and stent placement.

This patient was treated with cryotherapy, but recurrence occurred after several months, as shown with a complete bronchial obstruction and total collapse of the left lung.

Images (AP portable and coronal CT) from the recurrence four months later, showing a very narrow and completely obstructed left main bronchus, that was treated again with cryotherapy.

Points to remember:

Tuberculosis may complicate with bronchial stenosis and occlusion.
Endoscopic treatment of endobronchial tuberculosis may recur.
The position of the hila, In frontal radiographs, is important to suspect pulmonary atelectasis.