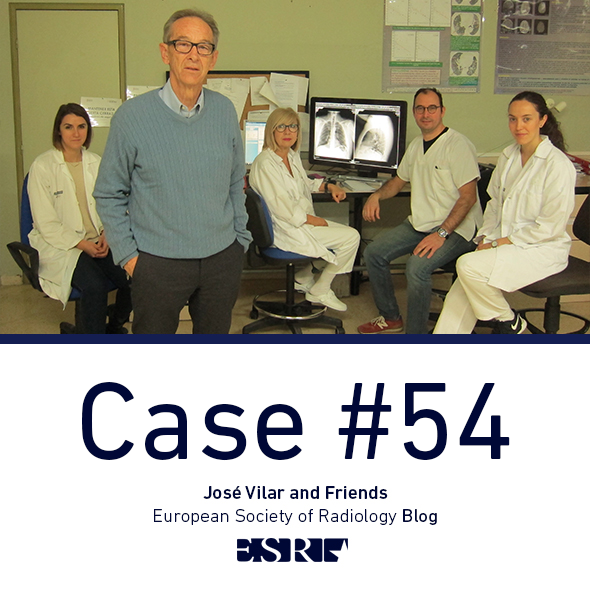 Dear friends, after a short trip to the abdomen, we return to the chest.
Here is a case to prove your ability to detect and diagnose.
This is an 82-year-old man with an important weight loss.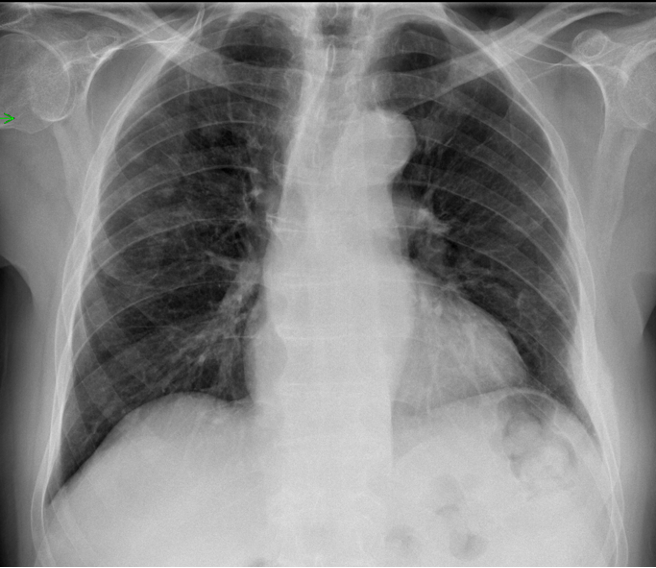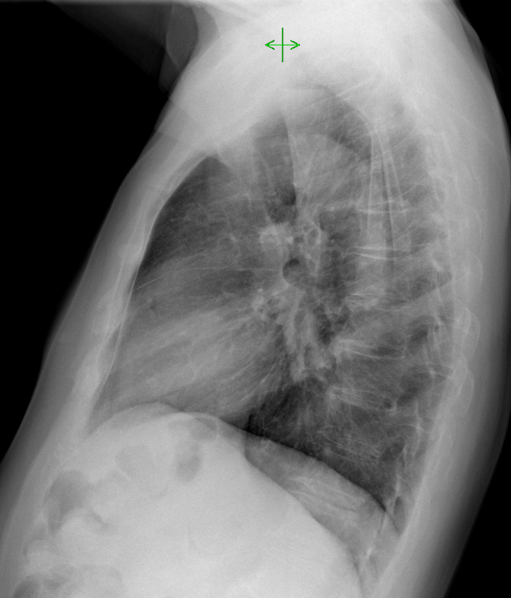 There are several relevant radiological findings in both projections. Can you list them?
Update, Monday 25th October:
Heading to the solution…but not yet!
This has been a strange case. For some reason, and according to the blog counter, more that 14.000 views of the case were registered. My conclusion is that, either the case is too easy or too complicated. Perhaps we are dealing with an adieu to the chest radiograph…
I refuse to accept it, therefore, instead of giving you the answer, let me prolong one more week the case and give you the opportunity to find the solution.
Here is a close up of the lateral chest radiograph: Findings?

According to the findings to what specialist would you refer this patient:
Cardiology
Pulmonology
Gastroenterology
Click here for the answer

Solution:

Dear friends,

I have not had any feedback from you until the end, after I showed a close view of the lateral chest radiograph. Then, most of you were right on the spot. Congratulations!

Findings:

Lateral Chest Radiograph:

The retro tracheal space ( Raiders space) is occupied ( Blue solid arrow)
Air fluid level in the upper retro tracheal area ( Small yellow arrows)

PA Chest Radiograph: The following findings are seen:

Right upper lobe pulmonary nodules
The azigo-oesophageal line is displaced outwards. (Arrows)
Air fluid level above the clavicle.
Extrapleural lesion in the left hemithorax with possible rib involvement

( Yellow arrow)

Summary of findings in Chest Radiographic examination:

Mediastinal lesion in the region of the oesophagus
Pulmonary nodules
Possible rib lesion

All the findings point to a tumour in the oesophagus.

A contrast CT was performed:

1- Oesophagus mass, dilatation of the proximal oesophagus, pulmonary nodules and rib metastases.


Comments:

This case illustrates once again the value of a chest radiographic examination, and especially the lateral projection.
Remember that the in lateral chest radiograph you must look, especially, at three clear spaces, and the spine.

Retrosternal clear space: Remember the cases of anterior mediastinal masses I have showed previously (Case 39).
The retro tracheal space or Raider's space
The retrocardiac space

Some examples of Raider's space occupation

Here is another case of Oesophageal carcinoma


Two other cases of retro tracheal pathology: An abscess from a dental complication and a right aortic arch.

(Slides from J.Vilar. Lecture at ECR 2021)

Tips:

Look at the lateral radiograph always. Remember the clear spaces.
Once you have found the pathology…keep looking. In this case a rib fracture may go undetected if you stop looking (Satisfaction of search error).