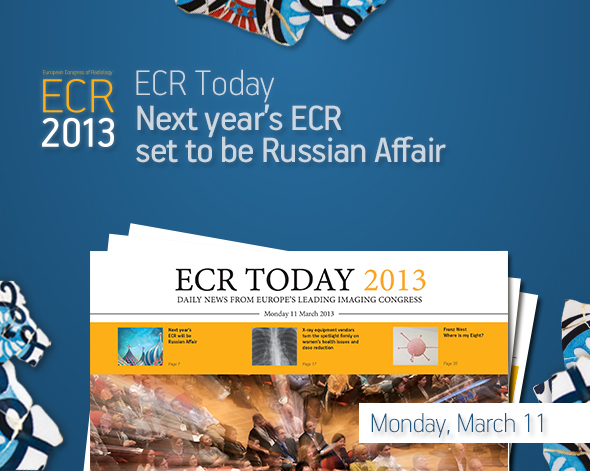 ECR Today spoke with the next ECR president, Prof. Valentin Sinitsyn. He is chief of the radiology department at the Federal Centre of Medicine and Rehabilitation in Moscow, Russia, and currently serves as president of the European Society of Cardiac Radiology (ESCR).
ECRT: What will be the main highlights of ECR 2014's scientific programme?
Valentin Sinitsyn: Prepare for more interactivity. People are increasingly interested in interactive sessions to assess what they have learned from a lecture. The ECR has been developing interactive sessions for several years now, but we want to increase that. Today, you can find a lot of information on the internet and many people might not think it is necessary to travel to a congress. We want to create something attractive and show that it is worth coming here. Nothing can replace shaking hands with your colleagues from other countries. I would be very sad if the ECR were entirely online. This is why we are making live meetings more interactive.
We would also like to change the format of scientific sessions. Our lectures have the same format they had one or two hundred years ago: a stage and an auditorium. We are currently discussing the concept of a multimedia classroom, a model which was successfully introduced during the last SIRM congress in June 2012. This multimedia classroom offered 60 work stations from different companies with 25 different cases which were discussed at the end. We are currently discussing the structure with Professor E. Neri from Pisa, who was responsible for the scientific programme of that project.
Soon we are going to use smart phones for voting during audience response sessions. But wireless technology has its limits and sometimes networks crash, so it needs a lot of work. Keypads are an old technology but they are very reliable. I am sure that next year, or the year after that, everybody will be able to vote with their own iPads or tablets.
We will also increase the number of multidisciplinary sessions. This is not something we have to do just during the ECR. This year we had the Imaging Biomarker's Course the day before the congress, which was organised by the European School of Radiology. This will take place again next year with radiation oncology as the topic.

ECR 2014 will feature New Horizons Sessions on theranostics, oncology and new technology, as radiology is developing so quickly. There will also be new State of the Art Symposia on RECIST, ischaemic stroke, cardiac imaging and obesity. Special Focus Sessions will focus on topics as varied as image-guided biopsies in prostate cancers, orphan diseases, dental imaging, US and MR elastography, paediatric abdominal emergencies, safety standards and structured reporting. Finally, Professional Challenges Sessions will be dedicated to interventional oncology, educational challenges and the role of social media in radiology.
ECRT: Will the programme reflect your interest in cardiac radiology, and if yes, how?
VS: Actually, one of the major highlights at ECR 2014 will be the 'ESR meets cardiologists' sessions. We will invite the European Society of Cardiology to take part in joint sessions on cardiac imaging. The ESC has sessions on cardiac imaging during their congress.
Cooperation with cardiologists can be very tricky. Turf battles exist, for instance concerning who should perform cardiac MRI. For me, the right answer is a multidisciplinary approach. Every radiologist thinks cardiac imaging should be done by radiologists, but in close cooperation with cardiologists. Cardiologists have very good training in diseases, and they have more contact with patients. Those hospitals where cardiologists and radiologists work together for the benefit of the patient usually have better results. In my hospital, we are friends but things could be improved. Some cardiologists think that radiologists need better training in cardiology and better knowledge of organ pathology, cardiac disease, physiology and anatomy. Our impression is that sometimes cardiologists are not fully aware of the potential of imaging, that some consider cardiac CT or MRI a toy without real benefit for the patient. But the truth is that today cardiac imaging can do a lot for patients.
Furthermore there will be a State of the Art Symposium on cardiac computed tomography prognosis and diagnosis, as well as a Special Focus Session on right heart morphology and function in lung diseases.
ECRT: Russia will take part in the 'ESR meets' programme as well. Do you think this will increase Russian attendance at the ECR?
VS: Russia was a guest country of the ESR meets programme in 2006. I was involved in preparing of this meeting and it was a great experience.
Participating in the 'ESR meets' programme is an excellent opportunity for Russia and all countries from the former Soviet Union. Language unites us, as Russian is the second language in many of them, and every radiologist in Belarus, Kazakhstan and Ukraine, to name a few, speak Russian.
Rising attendance can prove a tough nut to crack though, as our Ministry of Health limits sponsorship of congress trips in an effort to curb corruption. Still, there are other ways to increase attendance from Russia, such more involvement with our national society. The Russian Association of Radiologists may not have been active enough in the past, but last year we were able to substantially increase ESR membership among Russian radiologists by offering them free ESR membership. So from 200 Russian members a couple of years ago, we now have about 700 active members. Of course it isn't that much for such a large population – officially there are more than 15,000 Russian radiologists. Every year about 300 to 400 Russian radiologists attend the ECR, but it should be thousands. I hope to increase this number next year. Russian radiologists must understand that there are a lot of benefits for ESR members: congress discounts, support for young radiologists, fellowships and teacher programmes through ESOR.
ECRT: What will be the focus of the 'ESR meets Russia' Session?
VS: It will be a multimodality session. Russia is huge, so we decided to focus on the main diseases in our country, namely: tuberculosis, lung cancer, breast cancer, liver tumours and pancreatic tumours. The biggest problems in Russia are undoubtedly breast and lung cancers. Many Russians are smokers, but this year a smoking ban in public places was introduced, and this is very good news.
Serbia and Mexico will be our other guest countries.
ECRT: What do you think about the sessions held in Russian during the Satellite Symposium organised by GE Healthcare Nycomed last Saturday at the ECR? Do you think it would be a good idea to have scientific sessions in languages other than English as well, and if yes, which ones?
VS: It's a very good initiative and a good example to follow. I already spoke with Russian-based companies about it and they took it very seriously. Siemens and Bayer HealthcareShering will seek to do that next year.
I want to continue this over the next few years. As I said earlier, I want the number of delegates from Russia and neighbouring countries to increase in the future, and I believe this is one way of doing it. One problem is language; I always encourage my colleagues to learn English, because it is the lingua franca of modern radiology, become ESR members and attend the ECR. We are discussing the possibility of having a few scientific sessions in different languages and seeing how they go.
ECRT: The Rising Stars programme, which grants students free registration for the ECR, attracts an increasing number of students and residents each year. Last year more than 1,400 students visited the congress, making it the world's leading student meeting in medicine. What do you think of these efforts to attract young people? Will ECR 2014 include any new features to increase their participation?
VS: This is a very good initiative. Besides medical students, we are also attracting more radiographers. This year, for the first time there is a small team of Russian radiographers at the ECR, and our cooperation with the European Society of Radiographers is improving.
I like these student sessions because they have their own presentations and workshops.
Another exciting initiative is the European Diploma in Radiology (EDiR). Last year I was one of EDiR's examiners. I am glad to see it is becoming so popular, with 50 percent more candidates since last year. The diploma is held in different countries at national society annual meetings and I hope it comes to Russia one day.
ECRT: How significant an impact has the financial depression had on the ECR? What is your strategy to continue to attract sponsors and delegates from around the world?
VS: Times are getting more and more difficult for medical congresses because it is hard to et support from medical companies. Only the strongest congresses will survive so quality is paramount. As long as ECR keeps up with its high standards including innovation i believe we will still have the support of the industry.
What i see with RSNA. 20 years ago i came back to Vienna for the first time! ECR is such a unique combination of high educative offer, technical exhibition, innovative formats, I am aboslutley sure we have a bright future.
ECRT: You are very fond of social media and have your own blog on Russian radiology. What do you find so attractive about social media? What do you think of the ESR's efforts in this regard (ESR's blog, and its Facebook and Twitter accounts)?
VS: I like the ESR blog with Caceres' Corner, to quizz radiologists on various cases, and Dr Pepe's diploma case book, to prepare for the EDiR on ESR's blogs are very useful.
In general I find LinkedIN pretty interesting. People and colleagues can exchange their opinions and views, it is a much more effective means of communication than e mail. With social media, everybody can follow discussions and past discussions on a network, I really like that.
It is becoming an important theme and we will have a professional challenge session on this next year, to assess the possible impact of social media on radiologists' training and work.
ECRT: The Social Media Wall and ECR Live are both in their second year at ECR 2013. What value do these services add to the congress and how do you see them developing in the future?
VS: I really admire the ECR staff, especially the new media team. The ECR is so important because it's the most modern and innovative congress. People will really begin to appreciate these new services over the next few years . It reminds me of the Electronic Presentation Online System (EPOS™). When it was launched in 2003, no one fully understood how fantastic a tool it would become. Now we cannot imagine our lives as radiologists without it, and many other congresses imitate it. But there should be a balance; we don't want to see people checking their emails, or their mobile phones and iPads while a speaker is delivering a presentation.