New floor-mounted radiography system – guest post by Siemens Healthineers
In radiography, the way patients and referring physicians perceive your institution can enhance – or hinder – your success. MULTIX Impact is an innovative digital imaging machine that makes a positive impression on patients, staff, and referring physicians. Its user-friendly, state-of-the-art technology is designed at an economical price to improve access to care and helps you produce excellent images in a more personal way.
Strengthen your image with patients
Satisfied patients are your best promoters. Their knowledge about healthcare is growing, as are their expectations. Outdated technology, uncomfortable examinations, and a strained staff put them one step closer to choosing another provider. MULTIX Impact creates a positive patient experience, with the latest generation of flat detectors, dose-efficient and state-of-the-art technology, an elevating flat tabletop, and a welcoming design. Technologists can change technical parameters and access instructions directly on the tube touchscreen while remaining at the patient's side.
Strengthen your image with staff
Motivated and confident staff members are essential to a positive patient experience. You can't deliver exceptional care when your equipment is difficult to operate or unavailable – whether that's due to a cumbersome workflow, technological limitations, or downtime.
MULTIX Impact features an ergonomic design, a simple workflow, and technological innovations that help your staff put the focus back on the patient. Stress is reduced because operating the system is less demanding.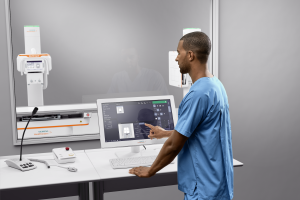 Inexperienced users can handle it with ease and consistently produce high-quality outcomes. In addition, motorization and advanced tracking features will enhance staff satisfaction and safety.
Strengthen your image with referring physicians
High-quality images delivered efficiently are the foundation of a successful radiography business. If your equipment provides inadequate images or limits your ability to accurately position patients, image quality will suffer. Satisfaction among referring physicians declines considerably when unexpected downtime or inconsistent image quality delays the delivery of results. MULTIX Impact was built for consistent outcomes, fast results, and peak system availability. It is pre-configured with imaging parameters and fast image-flavor adjustment for repeatable and high-quality output. Optimal system availability is assured thanks to premium components and an innovative service concept. If you're looking for fast and reproducible high-quality results – regardless of who operates the system – MULTIX Impact is your first choice.
Experiences from first clinical trials
The first machine worldwide was installed at Radiologie-Praxis Dürerhof in Bayreuth (Germany) in October 2018. "MULTIX Impact makes our work easier for us, especially for technologists who can use pre-settings and work faster while delivering a better image quality. And these time savings don't come at the expense of our staff, and all the benefits go to the patients – which results in an examination process that's both more pleasant and more efficient", states radiologist Dr. med. Thomas Ullein. "We're very satisfied with the image quality.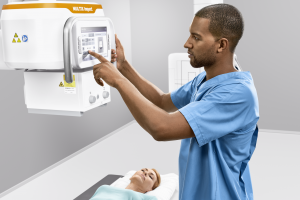 We previously had an analog X-ray machine and are thrilled with the new digital unit. It's very helpful for image generation as well as transfer to the referring physician", adds his colleague Josef Liebisch. Images are displayed very quickly. With the new unit, images can be viewed and evaluated within a few seconds, so that patients can be told more quickly when they can assume a relaxed position again.
"The positioning images on the tube are a definite advantage. If I'm unsure of the positioning required for unusual scans, these images allow me to quickly double-check. The patient doesn't even notice this, and I can immediately continue with my work", confirms a medical assistant from the radiological institute on another helpful feature. Also Practice Manager Andreas Kiefer is happy about his choice: "As a result of the seamless and adaptable integration of MULTIX Impact into the IT workflow, we've been able to reduce our error rate and increase our efficiency", he states.
Visit https://www.healthcare.siemens.com/radiography/digital-x-ray/multix-impact?stc=wwhc205536 to learn more about MULTIX Impact and how it can help you to strengthen your image.
See it live at ECR 2019 in Vienna on the Siemens Healthineers booth X5, #511, 27 February – 3 March 2019.
MULTIX Impact is not commercially available in all countries. Its future availability cannot be guaranteed. Please contact your local Siemens Healthineers organization for further details.

The statements by Siemens' Healthineers customers described herein are based on results that were achieved in the customer's unique setting. Because there is no "typical" hospital or laboratory and many variables exist (e.g., hospital size, samples mix, case mix, level of IT and/or automation adoption) there can be no guarantee that other customers will achieve the same results.