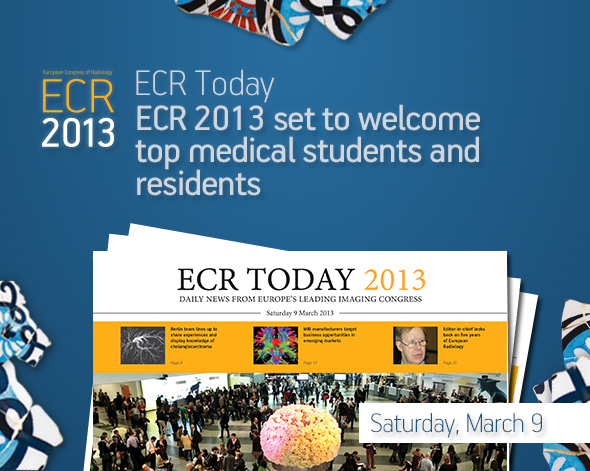 The European Society of Radiology (ESR), which organises the ECR, strives to stay at the cutting-edge of science, helping it shape the future of medical imaging. This commitment goes beyond technology and research, as the society nurtures the talented physicians of tomorrow through support programmes. These programmes help them discover the wonders of imaging and, hopefully, choose radiology as their specialty.
Students and residents are highly encouraged to take part in the 'Rising Stars' programme, which grants students free registration to the ECR. This initiative has produced significant results, with more than 1,400 students visiting the ECR last year, making it the world's leading student meeting in medicine.
Medical students and radiographers in training under the age of 30 and without an academic degree can register for the congress free of charge. They can also submit abstracts (the best submitters are offered free accommodation and travel) and attend Hands-on Workshops on ultrasound and many other scientific sessions.

The ESR launched the 'Invest in the Youth' programme for radiology residents and radiography trainees in 2003, and it has continued to expand ever since. The budget allocated to this programme has risen by 200 percent to €300,000 over the last four years, allowing more young professionals to attend the ECR free of charge. As of today, about 3,600 candidates have participated in 'Invest in the Youth', and 333 applicants have been accepted for ECR 2013.
To apply for this programme, candidates must submit an oral or poster presentation directly to the Invest in the Youth programme. To be eligible, candidates must have valid ESR membership and be either trainee radiologists under the age of 35, or trainee radiographers aged 30 or younger. Successful applicants are also granted free registration for the ECR, four nights' hotel accommodation and free public transport for the duration of the congress.
If you want to apply for the 'Invest in The Youth' programme or register as a student for ECR 2014, please visit www.myESR.org/RisingStars