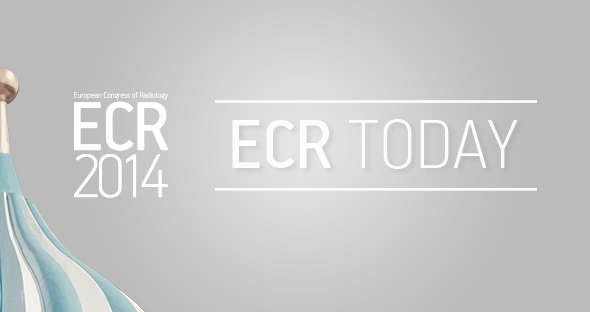 ECR Today spoke with Professor Małgorzata Szczerbo-Trojanowska, from Lublin, Poland, patron of the Rising Stars programme.
ECR Today: The Rising Stars programme is under your patronage this year. What motivated you to take on this role?
Malgorzata Szczerbo-Trojanowska: Medical students and residents will create the shape of radiology in the future. Therefore, those of us who care for our specialty should make an effort to encourage the best, brightest and most enthusiastic students to choose diagnostic imaging as their professional career.
I am very pleased to be involved in the preparation of the Rising Stars programme, which aims to create an interesting educational agenda for students and to encourage them to actively participate in the congress sessions specifically designed for them.
I think this programme is a very important initiative of the European Society of Radiology and the ECR. Having been an academic teacher for many years, I am aware of the great significance of undergraduate education. It has always been my aim as chairperson of the radiology department at my university to offer attractive forms of radiology teaching and to expose students to the charms of radiology from the early years of their education. This is the way to raise their interest in this specialty and get them involved in radiology research. It is in the best interest of the future of radiology. So when I was offered to take patronage of the Rising Stars programme, I didn't hesitate for even a second.
ECRT: Why should a medical student or radiology trainee take part in this programme?
MST: The European Congress of Radiology, one of the world's leading radiological meeting, offers medical students and residents a unique opportunity to see the greatest scientists, practitioners, lecturers and teachers present some fascinating achievements of modern radiology. There are also many chances to learn the state of the art in a wide variety of imaging methods for a plethora of diseases, and to find answers to complex problems of contemporary medicine provided by world-renowned experts. Participation in the ECR shows the importance of radiology in patient care, its great impact on other areas of medicine, and its relevance in the progress of medicine.
By taking part in the Rising Stars programme, medical students, radiology trainees and radiography trainees have an opportunity to give a presentation on the results of their own research work and opinions, or ideas, related to medical studies. Visiting the ECR technical exhibition is always an exciting and stimulating experience, providing a unique opportunity to become acquainted with cutting-edge technologies and new solutions.