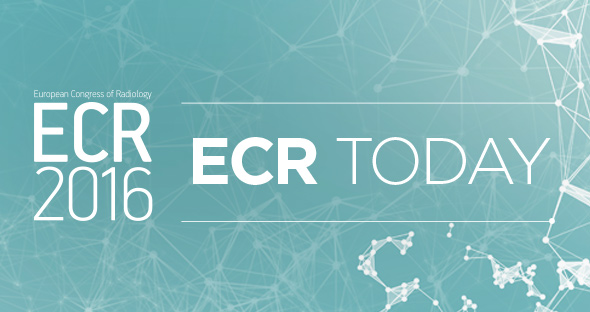 ECR Today spoke with the new ESR/ECR President, Prof. Paul M. Parizel, from Antwerp, Belgium, to learn about this new position, his visions for the society and his ideas for next year's congress.
ECR Today: You are the first officer of the European Society of Radiology to take on the new position of combined ESR/ECR President. Could you please briefly explain to our readers how this change came about and what it means? What are your main tasks and responsibilities in this position?
Paul M. Parizel: It is a great honour, and also a huge responsibility, to assume this new position of combined ESR/ECR President. The ESR is one of the most important and prestigious international scientific societies, with more than 63,000 members throughout the world. The ECR is well established as the foremost congress in radiology in Europe. Until a few years ago, nominations and elections for the 'cursus honorum' of the ECR and ESR were made independently of each other. This implies that we have had brilliant presidents of our society, who never became president of the congress, and vice versa. As both the society and the congress were getting bigger, and more mature, it was decided to re-evaluate and retune the strategic plan and to change the statutes so that appointments were fully integrated, instead of running on parallel tracks, as was previously the case. Bringing the congress and the society under one and the same leadership umbrella is an efficient way to better utilise our resources (human, political and financial). I am convinced that this will improve communication with our members, enhance our international standing and facilitate relationships with other societies and with the industry.
This combined ESR/ECR presidency is certainly a daunting task, and I admit that I am a little bit nervous. On the other hand, I can rely on the work of my predecessors and especially on the creative input and unflagging energy of my friends and colleagues of the Board of Directors, the Executive Council, the statutory committees, subcommittees, working groups, and, last but not least, the experience, professionalism and efficiency of the ESR staff. Our society is healthy, both politically and financially, and we are steering a stable and steady course.