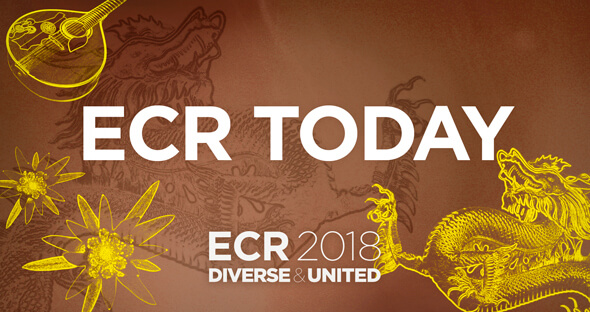 For young physicians, interventional radiology (IR) may seem as enigmatic as a Rubik's cube. But the cube can be solved with the right algorithm, according to Dr. Maximilian de Bucourt, head of angiography at Charité Campus Benjamin Franklin in Berlin.
"What we do in IR is exactly like a Rubik's cube: you follow the algorithm and solve the problem. In IR, if you do the procedure steps over and over again and use the rules, most of the time you can get the solution for the patient," he said.
Together with Prof. Christian Loewe from Vienna, de Bucourt imagined 'the Cube', a workshop aimed at introducing young physicians to the tools and techniques used in IR. With its focus on hands-on activities, including simulated procedures and interactive demonstrations, the Cube is fulfilling its goal of acquainting residents with this unique sub-specialty.
"The Cube is for young people who are thinking of becoming IR specialists, but find it too long before they can deploy a stent or manoeuver a catheter inside an artery. After medical school, basic radiology training and dedicated IR training with a teacher willing to let them perform major interventions, they still need to learn how to manage complications. The Cube is all about expediting this process, by enabling students and residents to get their hands on the products earlier," he explained.
To deliver top-notch knowledge, major IR specialists have agreed to share their experience on various aspects of clinical practice including emergency, legal aspects, radiation protection and haemostaseology. These talks will follow four main axes – peripheral, central, oncology and neuro – through sessions, discussion cases, quizzes and challenges.
More than 25 industry partners have also supported the Cube. Many of which are manning workstations, where they teach participants about devices and train them in their use using state-of-the-art IR simulators. These simulators enable participants to perform the procedures that take place catheterisation labs and angiography suites.
The initiative has received a lot of attention so far and the Cube has been at maximum capacity. New participants can still register on-site for sessions until the Cube closes on Saturday afternoon. All activities are located in the conveniently cube-shaped Donaucitykirche, between the Austria Center Vienna and the Vienna International Centre – Kaisermühlen tube station.
Interactivity is what it's all about in the Cube, and something de Bucourt recommends aspiring interventional radiologists prioritise throughout their career.
"Speak up! Don't hesitate to ask your elders about patents or procedures. Be creative, and don't be afraid to innovate," he said.
For more information, please visit myESR.org/cube.