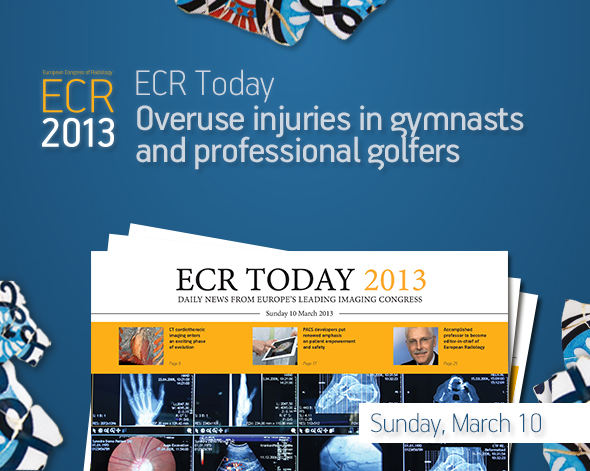 Watch this session on ECR Live: Sunday, March 10, 08:30–10:00, Room E1
Overuse injuries due to excessive exercise are normally seen in professional athletes, but they are also becoming more frequent in amateur athletes. The Refresher Course on overuse injuries in sports will present three examples of how these injuries, caused by different sports, can be diagnosed and treated.
Gymnastic exercises, for example, are very demanding, not only on the axial but also the peripheral skeleton, and they involve strong forces due to hyperextensive and hyperflexion exercises. A certain degree of hypermobility and increased flexibility is necessary to perform some gymnastic exercises, and so training is required to improve this flexibility. Unnatural movements are sometimes necessary in order to increase this hypermobility and flexibility.

Although the human spine can endure these movements, it is mainly suited to withstanding axial loads. Prolonged exposure to hyperflexion and hyperextension forces will ultimately lead to injuries, as the level of force exceeds the regenerative capacity of the bones and ligaments.
Children are able to perform these exercises more easily than adults due to the relative laxity of their ligaments, which allows them to move beyond the normal range of motion. However, this also puts the spinal column at increased risk. The increased peak axial load for gymnasts is also much higher than for non-gymnasts due to repeated jumps and landings.
A comparison between the injuries seen in children and adults is hard to draw as there are hardly any adult gymnasts; so it's difficult to determine what long-term overuse injuries adults will develop. Overall, it can be said that stress and apophyseal injuries are the most common findings in children and adolescents, whilst degeneration, predominantly of joints, is frequently seen in adults.
"It is difficult to establish an estimate of how big the risk of back injury is in gymnasts. Soler and Calderon, in 2000, gave a prevalence of 17 percent for stress injury of the spine, while in 1991 Goldstein et al found a prevalence of 39 percent for spinal pathology; the numbers therefore vary within the literature. There is also a great deal of variation in the prevalence of lower back pain, just from patient history not objective imaging numbers, from 25 to 85 percent. The most common injuries to the spine are stress reactions, stress fractures, degenerative disk disease and Scheuerman's disease," said Dr. Milko De Jonge from the department of radiology at the Zuwe Hofpoort Hospital in Woerden and the department of plastic, reconstructive and hand surgery at the Academic Medical Center of the University of Amsterdam in the Netherlands, when asked about the risk of injury to the axial spine from sports overuse.
The imaging modalities most commonly used are radiography, computer tomography and magnetic resonance imaging. Less common is the use of scintigraphy, although SPECT can be helpful.
Radiography should always be the method of first choice as it comes with some undeniable advantages such as availability, usability and cost efficiency.
In terms of sensitivity, radiography comes with some drawbacks, especially with regard to stress lesions, prior to the development of spondylolisthesis; and radiation dose, in comparison to other methods (except CT) although it is relatively low. According to Dr. De Jonge, MRI is basically the gold standard and is ideal for detecting bone-marrow oedema, one of the hallmarks of bone disease (i.e. active disease). The same applies to the diagnosis of soft tissues and intervertebral disc pathology.
But the results of MRI examinations always depend strongly on the chosen sequences; otherwise subtle abnormalities can easily be missed. Stress reactions, for example, can sometimes be difficult to see.
CT is basically the best imaging method for evaluating cortical bone and picking up subtle cortical fractures. It is easier to detect spondylolysis with CT than with MRI, but the examination unfortunately comes with relatively high levels of radiation, which excludes it from being the main method.
When asked why congress attendees should choose to attend his talk, Dr. De Jonge gave a clear answer: "There are lots of things that radiologists have to be aware of if they deal with athletes in general and gymnasts in particular. They need knowledge of the sport-specific injuries; so awareness is very important and they must have good contact with sports physicians and other professionals who are dealing with the athlete to obtain the best possible information about the patient. The sensitivity and specificity of the different imaging modalities used is important. For instance the diagnosis of a stress injury of the lumbar spine can be missed if no fat-saturated images are used in the MRI exam. I am going to address all these issues during my talk."
The Refresher Course will also feature a talk by Dr. Philip O'Connor, consultant musculoskeletal radiologist at Leeds Teaching Hospitals NHS Trust, who led the imaging team at the 2012 Olympic Games in London. His talk at ECR 2013 will focus on more conventional injuries, like upper limb overuse injuries in golfers.
The most common injuries we see in professional golfers are overuse injuries to the tendons and bones. These are a result of a higher frequency of play and practice, together with the fact that they have more repetitive swing motions, channelling the forces repeatedly through the same areas of the kinetic chain and skeleton. The lead wrist, spine, lead hip and lead shoulder are the most common areas of injury in professionals. Amateurs on the other hand, tend to have less repetitive swings and are more prone to acute traumatic injury. They are also generally older so are prone to exacerbations of pre-existing conditions.
"Magnetic resonance imaging is the modality of choice for imaging golfers, though ultrasound can be of great value in terms of the dynamic assessment of structures and in guiding injection therapies", explained Dr. O'Connor.
The wrist is the most common area of overuse injury in the upper limb, accounting for 50 percent of golf injuries, but there are some simple methods for preventing these specific injuries. The first step is to modify equipment and training regimens in terms of the type of play and frequency of play. Golfers should hit off dry soft grass rather than mats, hard ground or heavy wet grass, as this can take some pressure off the wrist.
General conditioning is also important, as in any sport golfers tend to be more prone to injury when fatigued or recovering from injury.
When asked about any recent or future developments in upper limb imaging, Dr. O'Connor said that there is a large study coming up in 2013. "The development of a structured medical service including musculoskeletal imaging has been the most important recent development in golf imaging for me. A multidisciplinary approach with a structured research programme has helped us learn a great deal about all aspects of golf injury. To date our focus has been on the wrist and shoulder. In 2013, we are going to launch a grant-funded three-year study assessing hip disease in golfers."
The session will conclude with a talk from Professor Stephen Eustace, radiologist from the Mater Misericordiae Hospital in Dublin, on overuse injuries in the footballer's ankle.
Refresher Course: Musculoskeletal
Sunday, March 10, 08:30–10:00, Room E1
RC 1210: Overuse injuries in sport: a multimodality approach
Moderator: E. Llopis; Valencia/ES
A. Overuse injuries in the footballer's ankle
S.J. Eustace; Dublin/IE
B. Overuse injuries in the gymnast's spine
M.C. De Jonge; Amsterdam/NL
C. Upper limb overuse injuries in golfers
P.J. O'Connor; Leeds/UK