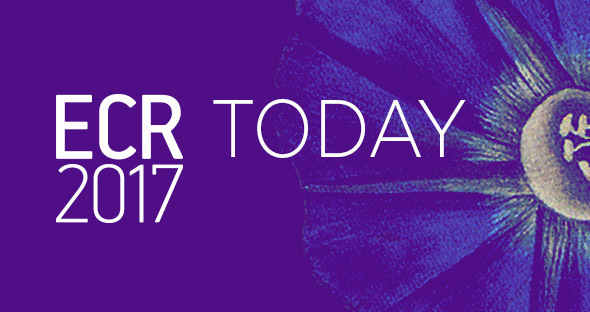 In recognition of her major achievements in neuroimaging and advancement of the field, Professor Maria de Fátima Viana Vasco Aragão from Recife, Pernambuco, Brazil, will present the Guest Lecture 'Breaking News from Latin America: How to recognise Zika virus infections on imaging studies' at ECR 2017.
Maria de Fátima Viana Vasco Aragão is professor of radiology at the Maurício de Nassau University and Scientific Director of the Multimagem Diagnostic Centre in Recife, Brazil. She is also financial director of the Diagnostika Endoscopy and Radiology Clinic in Recife.
Prof. Vasco Aragão received her medical degree from Pernambuco Federal University in 1987 and completed her residency in radiology at Ribeirão Preto Faculty of Medicine, University of São Paulo. She did fellowships in CT and MRI and in neuroradiology at the Med Imagem Beneficencia Portuguesa, São Paulo, and later completed a research fellowship at Mount Sinai Hospital Center in New York, US.
She always knew she would become a doctor and chose radiology because she recognised early on the field's value in diagnosis and treatment.
"My mother is a retired biologist and biology teacher. I have never forgotten the moment she taught me what a cell was. In my family, educators predominated and my great aunt was the first woman in Pernambuco, my home state, to graduate from medical school, in 1935. Perhaps on account of this family background I made up my mind to become a doctor. As an intern student of medicine, I was very impressed when I took my patients to be examined by CT and US. Even though there was only one CT scanner in my city, I succeeded in having all my intern patients examined, when indicated. My tutors were impressed by the swiftness with which cases were resolved. Thus I learned that radiology not only helps to quickly define diagnosis in most patients, but also provides a clear prognosis for the most adequate treatment. At the end of the course I began considering the possibility of specialising in radiology, even though 29 years ago, for most people, a radiologist was not a doctor. Shortly after graduation, I sat for a test and won a place in radiology at the first attempt, and radiology has been my passion ever since. I would like to say that I am grateful for having had great mentors, including the neuroradiologist Dr. Sérgio Santos Lima, who was my director during my fellowship in the Med Imagem Beneficencia Portuguesa, and the head and neck radiologist, Dr. Peter Som, who was one of my directors during my research fellowship at Mount Sinai Hospital Center New York," she said.

Prof. Vasco Aragão's main interest is neuroimaging and she completed her PhD in neuroscience at Pernambuco Federal University in Recife in 2010. She is a founding member of the Brazilian Society of Neuroradiology and a member of many radiology societies, including the American Society of Neuroradiology.
Recently most of her research has focused on the use of radiology techniques to help diagnose microcephaly, caused by Zika virus infection. "I have always had a special interest in advanced techniques such as spectroscopy, diffusion, perfusion, permeability and functional resonance. My master's degree and doctorate studies focused on researching these techniques in magnetic resonance on patients with cerebral tumours (astrocytomas). I feel obliged to participate and contribute to the development of knowledge for the further understanding of microcephaly, this new tragic sickness that has appeared in Brazil, with the greatest number of cases being reported in my state. So I have made time to describe the findings jointly with other doctors. We are currently concentrating our efforts to help to describe the congenital syndrome of the Zika virus spectrum," she said.
Prof. Vasco Aragão served as president of the Pernambuco Radiology Society from 2014 to 2016, being recently re-elected for the 2016–18 term.
In her opinion, radiology is increasingly central to healthcare but there are dangers looming for the profession.
"Since the discovery of x-rays by Wilhelm Conrad Röntgen in 1895, radiology has become essential for medical practice. In spite of this progress, the doctor-patient relationship is more distant than in other clinical and surgical specialties; and this distancing is increasing. The radiologist has less time to give attention to or talk to patients, since the number of examinations has risen sharply with the advent of increasingly rapid machines. There is tremendous pressure on radiologists to perform further examinations so as to get an adequate financial return for the institutions and doctors themselves, since the imaging studies have become much cheaper and the machines much more expensive. Over and above this, there is the necessity for doctors to constantly update their knowledge and at times assume administrative functions. All these factors lead doctors to distance themselves from their patients; reducing the time they need to study a specific case at greater depth and review previous examinations. Worst of all, this way of working is being passed on to students and residents as something normal and correct in our specialty, which it is not. The time has come to review and reflect on the true meaning and values of what it is to be a doctor and a radiologist," she said.
Prof. Vasco Aragão hopes to tackle these issues and share her experience with her colleagues during ECR 2017, which will be her second visit to the Vienna meeting.
"I am very honoured at having our work acknowledged by the ESR. Unfortunately we are talking about this tragic sickness that is spreading throughout the world. I sincerely hope that specific and efficient vaccines and medication will be developed soon. The world has already gone through so many epidemics and problems that I have confidence in the future and that all the current challenges to health, ethics, politics, diplomacy, culture, economics, and education will one day be overcome. I hope that we are alive to witness this change. May the ECR be a solid step in that direction."
Wednesday, March 1, 12:15–12:45, Room B
Guest Lecture
Breaking News from Latin America: How to recognise Zika virus infections on imaging studies
Maria de Fátima Vasco Aragão; Recife, PE/BR