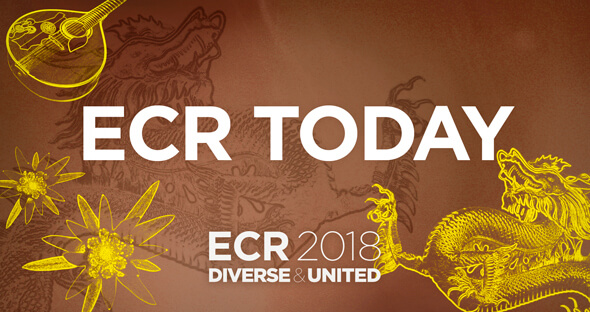 by Viviene Raper
How to create hand-made chocolate masterpieces isn't your usual radiology talk but, in tomorrow's session, radiologists with a sweet tooth can learn all about truffle making and other confectionery arts from a leading Swiss chocolatier – interspersed with more conventional talks about radiology in Switzerland.
Andreas Trumpler, managing director marketing and group CMO at Läderach chocolatier suisse, will be giving two short presentations about how Swiss chocolate is transformed from cacao bean to chocolate, and then into a hand-made masterpiece. The company employs more than 800 people and since 1962, it has established a reputation for chocolate and confectionery specialties. Läderach's products are sold throughout Switzerland and Germany, as well as by partners in the Middle East and Asia, and it supplies the top end of the gastronomy and hotel industry with semi-finished and finished products.
The connection between Swiss chocolate and Swiss radiology is one of quality, according to Prof. Dr. Dominik Weishaupt, who has been President of the Swiss Society of Radiology (SGR-SSR) since 2016 and is chairing tomorrow's session.
"Over the 100 years of the Society's history, we have undertaken several initiatives to improve the quality of Swiss radiology. And chocolate is considered as one of the highest quality products manufactured in Switzerland," he noted.
Weishaupt, who is chief physician in the Institute of Radiology and Nuclear Medicine at City Hospital Zurich, explained that Swiss chocolate needs precision manufacturing, and Swiss radiology also prides itself on its attention to detail. He said that the SGR-SSR was the first medical society to introduce board exams, as well as clinical audits for radiology departments in the private and public sector, which they developed in close collaboration with the Ministry of Health.
"Other radiologists outside of Switzerland will probably be very interested in how our board exams are performed," he pointed out. "We've organised them in a very precise and complete way. When we do something in Switzerland, it's usually very precise and complete."
The board exams have both a written and an oral component. During the oral exam, radiologists are given a case to discuss and are asked questions, including some that go beyond the case itself. In board exams, you must get an impression of how the candidate acts as a radiologist in his or her daily life, and not just in terms of written ability, he added.
Weishaupt thinks of each of the radiology talks in the session as 'a truffle'. In the first 'truffle', Dr. Harriet Thoeny, senior staff member in the radiology department at the University of Bern, will explain why diffusion-weighted MRI should be applied to all patients when imaging the urogenital tract.
"Diffusion-weighted MRI provides information on morphology and function without contrast medium administration and without exposing the patient to radiation," she commented.
Thoeny explained that gadolinium-based contrast agents have been found to persist in the body after an MRI scan, and although there is no evidence that they can harm patients, it is recommended to avoid these examinations in certain patients, particularly those with impaired renal function or vulnerable patient groups such as pregnant women or children with kidney infections.
Diffusion-weighted MRI is particularly helpful for detecting pyelonephritis, differentiating abscess and cystic renal cell carcinoma, detecting significant prostate cancer, and improving pelvic lymph node staging (combined with morphology).
To get the correct diagnosis, Thoeny said it's usually sufficient to perform qualitative image analysis by looking at high b-value images and the corresponding apparent diffusion coefficient (ADC) map. ADC is a measure of the magnitude of water molecule diffusion through tissues, and is used to look for impediment of water movement within organs in the body – in this case, the urogenital tract. Radiologists can also perform quantitative image analysis by measuring the ADC value.
Although the link between diffusion-weighted MRI and chocolate may seem tenuous, Thoeny reiterates that the key points are quality and teamwork. Diffusion-weighted MRI is relatively quick, cheap, and avoids potential risks from contrast medium and radiation, and the emphasis is on the need to obtain high-quality images and collaborate closely with a physicist.
"To get high-quality chocolate, you need to make an effort," she said. "Interpreting diffusion-weighted MRI also needs effort by including not only the high b-value images and the corresponding ADC map, but also the morphological images. You need good ingredients to make good chocolate, and you need good-quality images for diffusion-weighted MRI."
In addition to learning about clinical practice, Weishaupt hopes radiologists attending the session will learn how, despite the fact that Switzerland is a small country, radiological research carried out there is highly visible in Europe and worldwide.
Further to publishing scientific papers, Swiss radiologists belong to committees, societies and other bodies of the European Society of Radiology, he continued. Weishaupt will also talk about some of the activities of the SGR-SSR, such as the Swiss Congress of Radiology, an annual meeting with scientific and educational sections.
ESR meets Session
Friday, March 2, 10:30–12:00, Room B
ESR meets Switzerland
EM 1 Radiology and Swiss chocolate: a sweet combination
Presiding:
B. Hamm; Berlin/DE
Weishaupt; Zurich/CH
» Introduction: What Swiss radiology and Swiss chocolate have in common
Weishaupt; Zurich/CH
» Truffle No. 1: MR-diffusion of the urogenital tract: where it really helps
H.C. Thoeny; Berne/CH
» Interlude 1: From cocoa bean to chocolate creations
Trümpler; Ennenda/CH
» Truffle No. 2: hip preservation surgery: a fast evolving field also for imaging
C.W.A Pfirrmann; Zurich/CH
» Interlude 2: From cocoa bean to chocolate creations
Trümpler; Ennenda/CH
» Truffle No. 3: multiparametric imaging in head and neck oncology
Becker; Geneva/CH
» Panel discussion: The way of maintaining and improving quality of Swiss radiology