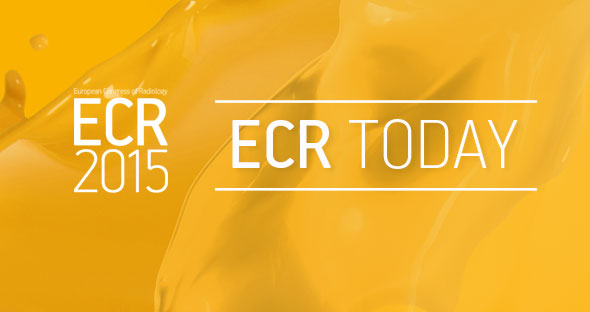 Watch this session on ECR Live: Sunday, March 8, 8:30–10:00, Room E1
Tweet #ECR2015E1 #NH17
Besides personalised imaging, a new paradigm is emerging in radiology that should re-shape clinical practice and benefit the patient immensely. Supported by new technologies that enable radiologists to image the body faster and better, radiologists are now trying to broaden their focus during examinations.
If there is a field where these advances make a tremendous difference, it is cardiothoracic imaging, an area where diseases are more often than not intertwined. Cardiovascular and chest radiologists will explain how the comprehensive personalised approach impacts their work and try to convince radiologists on both sides to take an interest in the other, in a New Horizons session on Sunday at the ECR.
For years, the trend was for radiologists to subspecialise as much as they could. Cardiovascular radiologists and chest radiologists would focus on their own area with little or no interest beyond that. But among these subspecialists, an increasing number are now changing their approach, as mounting evidence shows that diseases of the heart and chest are very often related, according to Dr. Christian Loewe, deputy head of the section of cardiovascular and interventional radiology at the Medical University of Vienna, Austria.
"In the past patients were investigated by either focusing on chest or cardiac diseases. This choice was mainly driven by their first clinical examination. However, there are a lot of situations and diseases where chest problems are caused by cardiac diseases and vice versa. There's a huge interaction between heart and chest, and that's why it's interesting and important to look at this relationship in more detail today," he said.
To prove his point, Loewe, a cardiovascular radiologist, will talk about acute and chronic chest pain during the session. Some of the most severe causes of chest pain are due to cardiovascular diseases, including myocardial infarction or acute aortic diseases. However, acute chest pain can also be caused by a number of pulmonary diseases, including pulmonary embolism, pneumonia and others. Therefore, radiologists must learn the different life-threatening disorders that cause chest pain, whether they are respiratory or cardiovascular.