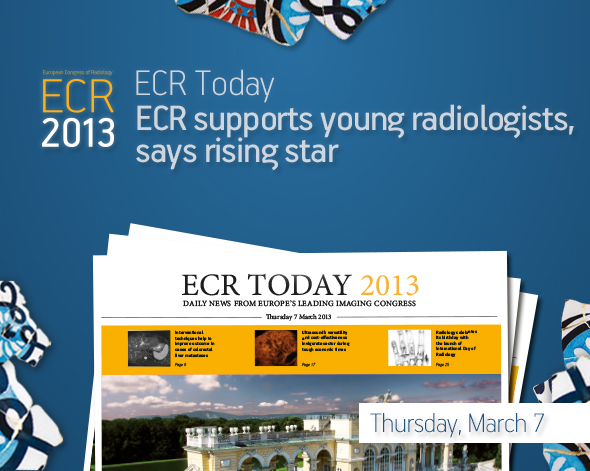 Dr. Alexander Sachs, the Rising Stars representative on the ESR's Undergraduate Education Subcommittee, talked about his numerous projects and his passion for teaching in an interview with ECR Today.
ECR Today: When did you first take part in the Rising Stars programme?
Alexander Sachs: I first took part in the Rising Stars programme in 2011. I applied to present Sono4You, an ultrasound peer-teaching student project, which I had become involved in. It was the first time I gave a presentation in front of a large audience, but I thought I would just give it a try and so I took a practical approach.
ECRT: It seems it paid off since you were elected best student presenter.
AS: Yes, it did have some positive effects. The year after, the ESR asked me if I wanted to coordinate the Hands-on Ultrasound Workshops at ECR 2012, which are strongly connected to the Sono4You tutorials. It was a great opportunity. It went really well and we are repeating the experience this year, with one advanced session and three basic workshops.
I like the idea of raising young people's interest in radiology. In doing so, I am in contact with many people internationally, be they students or teachers. I really enjoy meeting people of different ages with different ideas; it is quite interesting to see what happens, how they connect, and the results of their cooperation.
ECRT: Can you please tell us about some of the new features of Rising Stars at ECR 2013?
AS: The Sono4You workshops will offer more advanced content to match the level of first-year radiology residents. Generally, the contents will be more interesting; thanks to the feedback we received last year.
Another nice development is that people have become more motivated to enrol as tutors for the peer-teaching sessions. Last year, I really had to motivate people to do so, but now it is much easier, there is a much bigger interest on their part. More students are participating in the programme every year, and I am happy to add my experience or work to this initiative.

ECRT: Is there still room for improvement in the programme?
AS: Of course! I had a long discussion with Fatih Seker from Mannheim, who is also very involved in the programme. We think that there should be more sessions: there are currently three, but four or five would be better. Furthermore, the topics are well chosen but sometimes they are too specific. It is better for students to have something basic like 'How to document an x-ray'; everybody would be interested in a topic like that. We made a proposal for ECR 2014. It's up to them to decide if it will be integrated into the programme.
ECRT: What is the atmosphere like in the ultrasound workshops?
AS: It is relaxed and pleasant. There are 12 machines and four people per machine, so that really gives participants the space and time to try out the modality. The machines are also modern, so it is an opportunity for students to try out equipment they might only have heard of.
Communicating through English hasn't been a problem. Last year participants enjoyed speaking English so much that they had trouble switching back to their native language. Students came from Austria, Germany, Greece, Italy, Japan and Romania. The discussions were very interesting since everyone had a different way of doing things.
The workshop consists of four different stations. The station on organs and intervention promises to be fun, since we will use self-made vegetable phantoms to practice with needles (NB: we have also ordered biopsy needles). It is really easier to learn when you have fun. The other stations will focus on vascular topics, echocardiography and musculoskeletal ultrasound (MSK US).
ECRT: In addition to this work, you wrote a guide book on ultrasound for students (Studentencoach – Ultraschall Abdomen, University Publisher 3.0). What do you find so interesting about this modality?
AS: With ultrasound, you just need a good introduction and the right image, so even a third-year student can teach a fifth-year student who is specialised in another area. In our workshops, tutors are third to sixth-year students and they present the regions for which they have been trained.
This book is a compilation of the experience I gained with students through this project. Ultrasound is my main field of interest and I wrote my diploma thesis on its use in MSK.
ECRT: Why should a medical student or radiography trainee take part in the Rising Stars programme?
AS: There are many benefits if you do. The first is that you have the opportunity to attend unique sessions. These are dedicated sessions for students and, as far as I know, no other congress offers that. The ESR is genuinely interested in supporting young radiologists.
The second benefit is that you can see if radiology is interesting for you. If not, you can also find out why you were interested in imaging in the first place, and how you can use it in your career. The programme offers relevant basic sessions and practical courses.
Visiting the technical exhibition is also impressive, especially in such a huge congress. You can discover machines you've never heard of.
Another point is the language. Taking part in Rising Stars gives you an opportunity to practise medical English. It is also an opportunity to write your first abstract and take your first steps towards a scientific career. You get a chance to present your project, and you can really try to do a good job and make everyone benefit from it.
Last but not least, the free registration for students is such a rare opportunity as congresses are not exactly cheap. Where else are you going to get all this? These are the reasons why it's worth trying, even if you don't want to become a radiologist. I wasn't addicted to radiology from the very beginning, it came later.
ECRT: How did you decide to become a radiologist then?
AS: I did my diploma thesis in radiology. I was interested in musculoskeletal ultrasound, and some professors, including my supervisor, Dr. Gerd Bodner pushed me in that direction. I had gained so much experience with ultrasound and other modalities that it made sense to build further on this knowledge.
But I also think the Rising Stars programme had an influence on my decision. It was a combination of different factors: my international activities, my diploma thesis, my interest in imaging modalities and computers. Altogether, I thought it could be a good thing for me.
What I also like about radiology is that you don't work alone. You have to work in teams with other specialties. I'm a team player; I enjoy talking to other physicians.
Finally, radiology is a good job for the future. In other fields you often have to work beyond your physical limit with lots of night shifts and exhausting work schedules, but with radiology you can have a normal life, you can do other things. It is more structured than other disciplines.
ECRT: What are your plans for the future?
AS: I would like to subspecialise in musculoskeletal radiology. I graduated last summer and now I'm waiting for a free place to start my residency.
I am very interested in teaching. For instance, I and a few other students voluntarily organise a lecture for other students, every two months in the conference hall, to test our knowledge. During my studies, I have had many different teachers and I've noticed that not everyone enjoys teaching. Some prefer to do research, but I prefer the practical part of medicine. I like to motivate students, I like to discuss with them; wherever they come from or whatever their experience might be. So I really enjoy my activities within the ESR Undergraduate Education Subcommittee. We work together to disseminate knowledge across Europe.