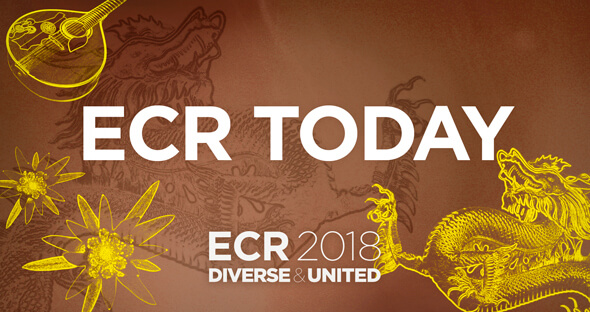 The Swedish radiologist Prof. Katrine Riklund, the current Chair of the ESR Board of Directors, has dedicated her career to the development of hybrid imaging. During todays' Marie Curie Honorary Lecture (Room A, 1:00 p.m.) she will look back at the achievements made in this emerging field and look forward to future advances.
Riklund, who is a professor, consultant in diagnostic radiology and pro-vice-chancellor of Umeå University, is one of Sweden's leading radiologists. She is also one of the first researchers to have recognised the potential of combining PET with CT and MRI, and has worked to advance the field ever since its emergence at the beginning of the 21st century.
"The combination of structural and functional/molecular imaging is fascinating. The entire field is new and extremely interesting, and it's the closest to my heart when it comes to imaging," she said.
During her lecture, Prof. Riklund will share examples of what hybrid imaging can do and what is going to come next. A major trend will be making use of the entire hybrid imaging examination for diagnostic protocols, also for the CT part, she believes. "This changes workflow and gives us more information. PET and CT or MR are not competing techniques, they are complementary," she said.
Tracer development is key for PET but digital detectors will also represent a major step forward. Currently, the need for a cyclotron for production of radionuclides hinders substantial distribution of scanners outside large centres. "To make hybrid imaging really take off, we need other forms of tracer production. I would like to see the tracer production work like a coffee machine – with buttons to select tracer and radionuclide," she said.
In her day-to-day work, Prof. Riklund is involved in various research projects, such as COBRA, a prospective multimodal imaging study of dopamine, brain structure and function, and cognition; (PEARL-PD), 18F-FE-PE2I PET/CT, a study of dopamine transporters in early Parkinson's disease, RECTOPET (REctal Cancer Trial On PET-MR/CT); and Prostate Cancer – PSMA and Acetate in PET/CT and PET/MR. These projects reflect her three major interests in the field; movement disorders and cognition in central nervous system, and prostate and colorectal cancer.
Her curiosity has led her to explore every potential path in hybrid imaging from the moment she heard about the exciting possibilities offered by the new field. "When I learned it was possible to create and label monoclonal antibodies to find tumours, and it was possible to visualise their localisation with scintillation cameras, I was hooked. I wrote my PhD thesis in 1992, on radioimmunodiagnosis and radioimmunotherapy with radiolabelled monoclonal antibodies, which was already a translational research project," she said.
She decided to become a radiologist after completing a scholarship programme in Saskatoon, Canada, after only three years of medical school. "I was only allowed to choose between radiology and pathology. Since I was already an amanuensis in clinical pathology I chose radiology. The specialty totally caught my interest and I decided to become a radiologist. One year later I started my PhD studies in radiology in parallel to medical school," recalled Riklund. Nuclear medicine was already part of the radiology department at her university hospital.
During her 30-year career, she has witnessed the "overpowering development" in radiology and nuclear medicine. "The digitalisation of imaging completely changed the working process and possibilities for remote collaboration. The development of CT and MR has been amazing, and also formed the basis for the highly significant introduction of hybrid imaging, with the introduction of PET/CT in 2001 and PET/MR a few years ago," she said.
Visualisation and processing of image data, which is the basis for the 3D-4D and parametric analyses radiologists can perform today, are also noteworthy, she pointed out. The growth in computing power has of course been a prerequisite for the enormous development of image data processing.
Automation and artificial intelligence will change radiologists' work and help us, but it is important that we are involved in the work rather than just the computer scientists, she argued: "I am convinced we have to start solving clinically relevant questions. There are already many algorithms that can be used but we need to identify and focus on what we should use them for. Hopefully we can initially receive a robust decision support system. There is also a great need for simpler systems for organ segmentation, and I am awaiting the development of an intelligent system for calculation of total tumour burden or functional tumour burden."
The next step will be the radiologists' capability to create added value by integrating imaging data with other clinical data for support in personalised/precision medicine for treatment planning and prognosis, among other applications, she added.
Staff shortage is and will remain an issue in many countries including Sweden, she explained. "There is a lot of pressure on radiologists in the system and a situation exists where there is competition between clinical work and science. Teleradiological collaboration can be used in both settings to minimise distances. The financial situation is always a challenge and can influence continuous development."
This should not discourage medical students from choosing radiology as a specialty, however, as it is fascinating, and of great importance in most areas of healthcare. "Imaging influences diagnosis, treatment planning and follow-up. And if you choose interventional radiology, you will also play a big role in treatment. There will always be something new to learn in radiology," she said.
Prof. Riklund also mentioned the benefit of travelling abroad and meeting colleagues from all over the world. "Making friends abroad helps to build bridges between countries, which I am convinced can be small steps towards achieving better understanding between us. With regard to imaging, international cooperation can help to harmonise education, clinical work, research and equipment standards, as well as increase the overall level of competence. This work will, in the end, also help the patients."
What better place to start than at ECR?
Marie Curie Honorary Lecture
Friday, March 2, 13:00–13:30, Room A
Hybrid imaging: the story so far and what to expect next
Katrine Riklund; Umeå /SE