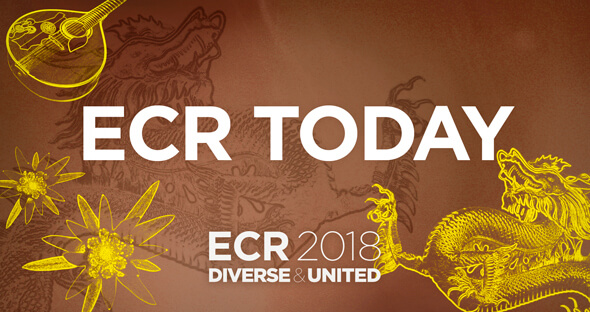 Polish radiologist Dr. Agnieszka Trojanowska will shed light on human papilloma virus (HPV)-induced squamous cell cancer of the head and neck, a common yet long neglected type of cancer. In an interview with ECR Today, she also explained the origins of her passion for head and neck imaging, and how radiologists will increasingly benefit from computer science.
Dr. Agnieszka Trojanowska, assistant professor in the department of radiology and nuclear medicine at Lublin University Hospital, is an internationally recognised specialist in head and neck imaging. Her special interest for oncology and her natural curiosity led her to agree to deliver the Josef Lissner Honorary Lecture on HPV-induced squamous cell cancer of the head and neck (HNSCC) at ECR 2018.
"HNSCC behaves differently than more well-known forms of SCC, and it is becoming more and more prevalent. It affects young, well-educated people with high socioeconomic status, and is a quickly rising sexually transmitted entity with peculiar clinical and molecular characteristics. In particular the rise of HPV-induced cancer has been observed in the United States since the beginning of 21st century," she said.
It was important for her to talk about this long overlooked topic, for which much remains to be done. "It has been under-estimated for many years in many countries. Nowadays, we can speak about an HPV epidemic, leading to a significant rise of oropharyngeal cancer incidences worldwide. These cancers are quite unique and, in my opinion, knowledge of their physiology and treatment options is essential," she said.
New research shows that, compared with environmental-related head and neck squamous cell carcinomas, patients with HPV-related malignancies display a better response to treatment and a lower risk of death and progression, Dr. Trojanowska pointed out. It is also noteworthy that, according to the 2017 TNM classification, HPV+ cancers are evaluated with a separate grading scale, she added.
Treatment will improve as understanding of the disease grows. "New vaccines will be developed and maybe with genome therapy, we will be able to fight it. Also, new therapeutic strategies will be tested to kill the cancer early with the least harmful effect for the human body," she said.
On the research front, Dr. Trojanowska is currently trying to evaluate human larynx ex vivo and compare MR images with pathology specimens using 7T MRI, as part of a multi-university project.
Radiology runs in her family – she is the daughter-in-law of the illustrious Małgorzata Szczerbo-Trojanowska – but this is not the reason she chose the specialty. "I always wanted to be a doctor; it seemed to be a fascinating discipline for me. During medical school, I was mostly interested in neurology, neurosurgery and pharmacology, but just after I graduated, the first multislice CT was introduced and I was totally swept away by the enormous possibilities of imaging," she explained.
She started studying head and neck in 2001, first dealing with skull base and temporal bone, and then head and neck oncology. But it was her heart that led her to love the upper end of the body. "My interest in this subject grew when my husband specialised in head and neck surgery. He desperately needed a trained eye to read CT and MRI studies and I had no choice but to help him. After a few years I developed a true passion for this subspecialty and now I cannot imagine having a single evening when we are not discussing our patients," she said.
Multislice CT has impacted diagnostic imaging the most and new developments will be computer driven. "Artificial intelligence is the song of the future and it will include medicine too. Robotic surgery will become routine and no one will rely on imperfect human hands again. Computer-aided detection (CAD) systems will replace tired eyes and computer algorithms will win out due to our inability to concentrate for 12 hours straight. It is clear to me that the era of human-produced reports and diagnosis is coming to an end. We should not be afraid of this. These will be the new tools helping us to serve the patient better," she said.
Another thing radiologists must understand is that they need to improve their knowledge as well as cooperation with other disciplines. "Our specialists have to speak the same language as our clinician colleagues, and only when we get profound understanding of the field we specialise in, are we seen as partners in dialogue in a multidisciplinary team. A subspecialty in radiology is a must, because in today's world knowing everything means knowing nothing. Presently, we witness the fact that many clinicians are investing in their own equipment to diagnose their patients. But radiology is much more than the interpretation of simple CT scans or ultrasound. If we want to prove this, we must be highly professional in what we are doing, and this includes the knowledge of the patient's symptoms and treatment options."
New radiologists must remember that success is the ability to go from one failure to another with no loss of enthusiasm, she said, quoting Churchill. "I find these words so true. Every single day I learn something new, every single day I am better – and I can prove it – and every single day I make a new mistake – and I can prove that too."
Meeting different people and exchanging ideas is key in radiology practice, and international cooperation is of big help. "I have been a member of the European Society of Head and Neck Radiology for 15 years and these people helped me tremendously back when I was first starting. I always knew that I could call anytime or send an email with a doubtful case to get expert advice," she remembers.
Another obvious opportunity to meet people and share knowledge is ECR, she added. There's nothing like the present!
Josef Lissner Honorary Lecture
Saturday, March 3, 12:15–12:45, Room A
Human papilloma virus and head and neck cancer: the new face of malignancy
Agnieszka Trojanowska; Lublin/PL